Risk management is critical for hedge funds to achieve sustainable outperformance and attract and retain assets from investors. Hedge funds must keep up with growing regulations and enhanced risk management practices to prevent heavy losses.
To remain competitive, access to both real-time reporting on cybersecurity threats and quantification of risk are critical advantages every hedge fund must have as part of their operating practices.
In today's blog, we've outlined a few cybersecurity solutions that will help your firm mitigate risks to protect your valuable assets and investor relationships.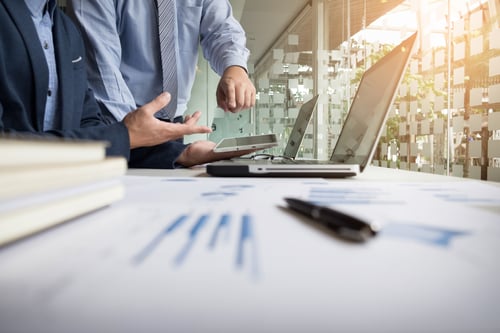 1) Real-time 24x7x365 Monitoring
Obtaining an up-to-date 360 view of your fund's exposures and aggregated risks is a complicated task. Someone with the right skills must be monitoring the system at all times.
Bringing in a third-party Security Operations Center (SOC) allows your firm to have a team of 24x7x365 security analysts to monitor, hunt, detect and respond to threats continuously. Not having to worry about the safety of your assets, investors and client data enables your internal resources to refocus on your business and operations.
2) Dynamic Dashboards and Custom Reporting
When reconciling data and documents from multiple counter-parties, it can be challenging to discover security gaps in between trading, risk and reporting.
Having a central hub, such as Align's secure client portal, organizes and consolidates 3rd party (e.g., investors, consultants, vendors, regulators) communications around your Cybersecurity Program and grants hedge funds access to real-time, global cybersecurity breach data feeds.

These dashboards provide additional access to your firm's cybersecurity policies, compliance and education training results to ensure all team members are up-to-date with your company's guidelines. Your firm will never have to worry about data getting lost between transactions between managers to vendors and other counter-parties.

3) Evaluate and Quantify Hedge Fund Risks
When trading occurs at lightning speed, it can be difficult for hedge funds to focus their attention on evaluating risks that other
counter-parties pose at the given moment.
Services such as Align Risk CSR (Continuous Scanning and Reporting) help identify, quantify, evaluate and analyze your investment firm's risks in real-time. Such cybersecurity solutions illustrate a holistic view of your IT activity while actively measuring, reporting and mitigating risk. These insights help firms to better understand their vulnerabilities, and in turn, pinpoint solutions to safeguard your assets and sensitive business information.
4) Compliance
In today's increasingly dangerous and sophisticated threat landscape, when it comes the potential of a business being hacked or experiencing a data breach, it's not about if, but when.
Hedge fund managers need comprehensive, robust and state-of-the-art cybersecurity to respond to threats and guard sensitive business information effectively. By employing a cybersecurity provider, your firm can satisfy regulators, encourage investors and empower employees.
Conclusion
Align CybersecurityTM has a unique methodology to its comprehensive Cybersecurity Risk Management Solution. We provide our clients with award-winning, regulatory compliant and workable solutions that are continuously monitored, tested and evaluated by our team of industry veterans and cybersecurity experts.

To speak with an Align Cybersecurity expert and take a step toward elevating your firm's risk management strategy, click the button below.
---
For more information regarding hedge fund cybersecurity, check out our our whitepaper, Cybersecurity 101 Fund Managers.
In this resource, you'll learn about:

The legal and regulatory landscape
The regulators' cybersecurity initiative
Key components of an investment firm's cybersecurity program
How to "crack the code" on hedge fund cybersecurity