Yesterday, we shared part one of Align's recent feature in HFM Global, which included actionable insights from John Araneo and Vinod Paul on the rise of public cloud adoption among investment managers, regulatory examinations and how technology has played a large role in facilitating the transition to remote work environments.

Today, we explore the transformation of operational due diligence, business continuity and strategic cloud investments in the post-Covid world.
Focus Areas for Investment Managers
Q What should the investment managers be thinking about in terms of business continuity, technology and cybersecurity?

JA We're seeing a clear dichotomy in the industry that's emerging, to wit, the pool of managers that have decided to invest more heavily in technology over the last five years, and those that haven't. For the latter group, they have effectively removed themselves from the passive innovation that the former group is enjoying, largely due to the public cloud, which as we've said, is the ideal IT architecture and one which supports the transition to a centralized workforce seamlessly.

In terms of cybersecurity, what managers should be thinking about is whether the protections they've invested in are following the data or the endpoint (think laptops, tablets, or smartphones) as opposed to simply protecting the network.
And I think this change -a focus on now protecting the data vs. protecting the network- is happening passively for those who are on a public cloud environment, because the public cloud providers are investing in their own public clouds 24/7 with armies of engineers and data scientists to make sure that it remains secure, every hour of every day, as the very fluid threat landscape continues to evolve and change.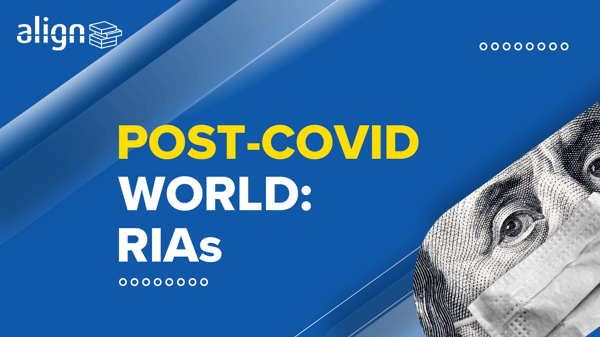 But those that are on a more dormant legacy private cloud environment have to make these upgrades themselves and invest in a new layer or new Band-Aid, over and over again. Right now, it has never been clearer that an investment over the past five years in a more contemporary public cloud-based IT infrastructure is paying dividends to those who've done it. And it's been a difficult transition for those who haven't.
Public Cloud Proves Critical to RIAs
Q How are investment managers achieving long term collaboration throughout this time?

VP Over the past five years, there's been tremendous innovation in the public cloud. The overall experience has been phenomenal for the firms that are leveraging the public cloud and have the ability to use a system like Microsoft Teams.

With Teams, and the entire Microsoft ecosystem, individuals can work seamlessly via video-conferencing, document sharing, and by simultaneously editing the same documents between them.

Since the lockdown started, the common source of frustration in the marketplace has been an inconsistency in the functionality of collaboration. Being able to collaborate either by the video or telephonic conferences is very useful, but we have also seen a tremendous uptick from individuals that were using traditional phone providers or older physical handsets where they have had to forward their phones from their office to their home, which is proving to be both clumsy and problematic.

We have focused on helping our clients transfer entirely to voiceover IP solutions, where the phone can ring at your desk, and seamlessly redirect to ring on your cell or home phone.
Operational Due Diligence Post-Covid
Q How has business continuity, operations and communication transformed in the post-Covid world?

VP We've seen in the past few years that those conducting operational diligence really understand the underlying technology of the various service providers. With all the due diligence that I personally cover on behalf of our client base, that process has not changed.

Yes, physically, we might not be in the same office, but the collaboration remains the same, and we make sure our technology preserves the integrity of the underlying operational controls.

JA We are now seeing and participating in virtual ODD exams. And so, quite ironically, the very technological controls that are being evaluated during an ODD exam, are also being used by these ODD examiners themselves in conducting these exams.

That in of itself is, at the very least, an implicit stamp of approval as to the value and effectiveness of these underlying technologies and perhaps a sign of things to come.