The following article originally appeared in HFM and was written by Victoria Pavlova. In this exclusive interview, Victoria sits down with Align's CISO, Alex Bazay, to discuss how technology has evolved for hedge funds, the uptick in funds outsourcing IT to managed service providers and underlying motives.

It wouldn't be an overstatement to say that 2018 was a challenging year for hedge funds.
And while 2019 so far has brought encouraging returns, a chill can be felt in the air – not least of all, by technology leaders. Driven by changing priorities and resources, hedge funds are changing how and what technology they buy, as well as what they develop in-house.

This, according to several CTOs we spoke to, may offer an opportunity for tech firms to attract not just developers and infrastructure managers, but also senior tech leaders from hedge funds.
In May and June alone, three senior technologists with lengthy careers in the hedge fund sector have moved to tech firms serving the space – a significant number in an historically tight-knit sector. The reasons, according to the technologists and experts we spoke to are three-fold – a tighter regulatory environment, combined with a drop in in-house tech resource, as well as an evolving fintech and managed service provider sector.
The bottom line: for a CTO with a decade's experience at a hedge fund, the service provider space has become increasingly attractive.
A shrinking sector?
"For the last, around five years, the hedge fund industry has shrunk somewhat" says Doug Collyer, senior manager at UK recruiter Morgan McKinley. "And the technology has become more highly regulated and perhaps clunkier."
Collyer's view of a shrinking sector is echoed by a decrease in assets under management globally.
According to HFM's 2018 asset survey, the total assets managed by the traditional hedge fund industry declined by 4.8% in 2018 to fall below $3trn, in the industry's greatest annual asset loss since 2008. The survey showed that the traditional hedge fund industry stood at $2.9trn at the end of December 2018, as the assets fell for the first time since 2016 and retracted back to its June 2017 total.
"With the market growing tougher, I think some senior executive people have grown frustrated with a lack of ambition, growth and innovation within technology, with the area being under the microscope," says Collyer.
"They've opted to move to places with complete greenfield start-up environments where they can start fresh. These firms are often privately backed and provide an opportunity to grow something from scratch and disrupt the market. The opportunity to work with the same kind of technology, but within an environment that allows innovation is a lot more attractive than a highly regulated, shrinking space."
Part of the reason can be found in the institutionalisation of technology firms. Hedge fund jobs were in the early 2000s seen as both relatively secure and creatively satisfying pursuits – and so funds had no trouble attracting top tech talent, Collyer explains.
But this might no longer be the case.
The changing nature of the job
"The role of the traditional CTO is changing," says Dennis Samuels, the former CTO of Indus Capital, who joined crypto startup CoinGenius in May. "This is because of a lot of hosting companies that are in the space now. If you look at say Abacus, Agio, Options and similar platforms – all of them mean that the chief technologist [at a fund] generally isn't building the infrastructure anymore."
However, this isn't true of funds across the board, Samuels points out. According to him, the build-versus-buy decision will hinge on a lot of factors, including a fund's trading strategy and point of
differentiation.
"It depends where your differentiation is. If you're a high-frequency or an algo shop, then your edge is technology and you should own it," Samuels explains.
"But if you're a fundamental long-short or long-only and you differentiate on your fundamental research or you have some proprietary method of rating and evaluating, then you don't really need to own the technology. The intellectual property behind that is not technology per se."
Fundamental IT shops are moving away from in-house development in favor of more low-touch alternatives, including plug-and-play software and managed service providers.
This phenomenon has led to a change in the in-demand skills, which is especially pronounced for senior tech leaders and CTOs.
But Samuels is optimistic – this is not an exodus of fund technologists so much as it is a shift towards new skill profiles, bridging the gap between business and technology.
The move towards commoditised IT creates a demand for technologists to be more aware of business requirements and thus, better able to communicate these to external service providers.
"What this means is that the technology footprint you directly own and control as a CTO is lower now and your business skills need to be higher," he says. "The vast majority of shops that start up today generally go with a hosted provider. This has changed the nature of the CTO role from understanding the underlying technology to being in a position where they need to understand the business more and then put together the services underneath it."
Cyber-security is moving the fastest
Samuels mentions cyber-security as one piece of the technology puzzle that's particularly well-suited to third-party management.
Coincidentally, this is also the sector where several former hedge fund techies have found new opportunities.
Alex Bazay (pictured below), the former CTO of now-defunct Gruss Capital, joined cyber-security consultancy Align at the end of May. In his new role as CISO, Bazay has a great vantage point of funds' cybersec needs, while also having the manpower to develop tailored solutions.
Speaking to HFM Technology, he explained why, in cyber and information security, the grass might really be greener on the other side.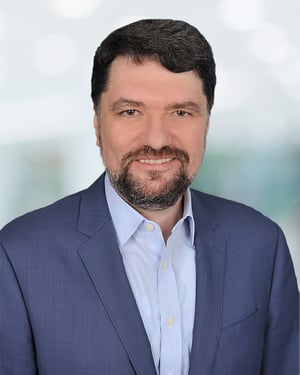 "Working for a hedge fund, and especially a smaller one, it's much more difficult to keep up with the current pace of technology. Especially if you're working with a small or mid-sized company," he says. "The cyber-security landscape is changing so fast that it's difficult to keep up without a significant dedicated technology resource."
Technology outsourcing has meant that funds now dedicate fewer people – and hours – to new technology development, making the more innovative tech vendors more attractive for an experienced leader.
"Resource in this case refers to people more than budget." Bazay goes on. "Budget is rarely an issue for funds. Rather, when talking about cyber-security, you need 24-hour operational coverage. For a medium-sized company with a team of 30-50 or even a hundred people, that's difficult to achieve internally. So you need to start reaching out to outside providers. Perhaps this is why CTOs with an interest in cyber-security start looking outside the sector."
The changes both Samuels and Bazay allude to can be observed in the attitudes of the HFM Technology readership.
In a reader survey we conducted in March, 67% of respondents indicated that the biggest challenge when hiring developers – at any level of seniority – was the need for strong communication skills.
This number was up from 37% in 2017, indicating the changing priorities of fund managers – from tech skills to business skills.
The second biggest challenge, fittingly, was competition for talent with tech firms – 60% of respondents indicated that this was a problem they faced, up slightly from 57% two years prior.
The survey results refer specifically to developer talent. However, the recent string of high profile exits indicates that the shift might now be impacting the upper echelon of tech talent.
Bazay and Samuels both concede that this is not an exodus so much as it is a transition – as the in-demand skills change, financial firms must find new ways to attract the people they need.
In a feature in our May issue, chief technologists from WorldQuant, Taconic and Man Group outlined their innovative techniques for developer recruitment – from a more holistic view of candidates, to
Hunger Games-style assessment centres.
However, attracting and retaining senior talent is a more holistic challenge – encompassing new skill profiles, changing incentives strategies and a wholesale shift in the nature of the job.
"The demand is switching to developers, software creators and people who can code. That's why I think the whole landscape of what hedge funds are looking for is changing," explains Bazay.
As the hedge fund sector undergoes the latest stage of its digital transformation, the graduating class of CTOs presents an opportunity for software and tech vendors.
Emerging fintechs are turning to financial firms for their specialists
The MSP space has become more established and, as such, more attractive to technologists with experience in financial firms.
As companies and divisions emerge dedicated specifically to asset management software, they need technologists with experience inside the sector, Bazay believes.
"The MSP space has matured," he says. "And they're looking into the sector towards the people who were on the inside. They'd like to learn from people with experience of what works or doesn't work
for their clients. They're trying to deliver products that make sense and so are looking for tech leaders with direct experience buying them."
Additionally, funds' moves to the cloud have made infrastructure management skills less relevant in the grand scheme of fund technology.
See Related: Forwarding-Thinking Investment Firms are Embracing Public Cloud Benefits
Instead, Bazay believes the focus is now more on software buying and development.
"Five or ten years ago the industry was predominantly saturated with senior people with a background in infrastructure. However, firms aren't looking to own their infrastructure anymore – it's not necessary to have servers anymore and there has been a mass migration to cloud and serverless," Bazay continues.
"Even the proposition from vendors like AWS and Azure is now more mature and firms have started looking in that direction. They no longer need people with a background in networks and infrastructure in-house."
Seeking information regarding managed IT services, cloud services or cybersecurity for financial services firms?
Reach out to an Align IT specialist by clicking here, or on the button below.