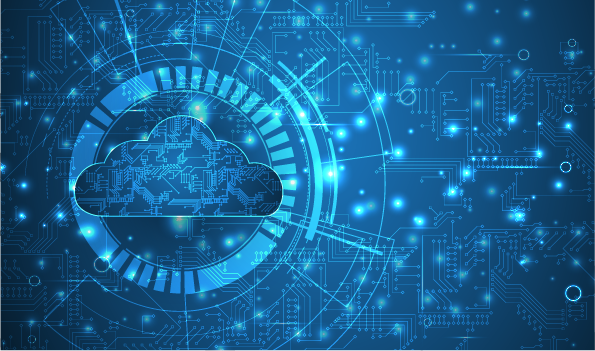 Photo Credit: © kras99 - stock.adobe.com
The following is an excerpt from our whitepaper, "Debunking Hybrid Cloud Misconceptions."
Flexibility
One driving factor to moving to the hybrid cloud is choosing the best venue of operation. In this case, applications are placed in the public or private cloud depending on specific resource requirements. This involves choosing the cloud that is optimal for application deployment. If workloads are batch processed in the development or testing phase of the development lifecycle, this might be best suited to the public cloud, as capacity can be purchased when it becomes necessary. Private cloud would not be ideal for this, as its predetermined capacity may become insufficient, and cannot be purchased on the fly. If, however, the application is in steady-state, it becomes more practical to deploy the application to the private cloud if resources requirements are predictable.

A similar motivator for using the best venue of operation approach is the lifecycle-based deployment, in which the application lifecycle stage determines whether the application should reside in the public or private cloud. With this approach, the development and testing phases occur in the public cloud, enabling developers to freely utilize resources, which is important if demand is unstable. The production environment is placed in the private cloud, perhaps to meet security and/or compliance requirements. On the other hand, the lifecycle-based approach could instead place the development and testing environments in the private cloud, if there is an excess of capacity that is capable of meeting development requirements. The production application may require scalability, thus a wider geographic net than the private cloud can provide.

Split-tier architecture is an approach in which the application's database requirements dictate the cloud model, rather than the lifecycle stage. In this case, the databases reside on dedicated hardware and front-end tiers are deployed to the public cloud. Rather than using the traditional hybrid model, in which public and private clouds are integrated, this would involve the integration of the public cloud and dedicated hardware. Load balancers and application servers are run in the public cloud and the databases are on bare-metal hardware via a direct network connection. The hardware is committed to your application and tied to a specific workload. The decision to use bare-metal hardware may be determined by the need for high-speed storage devices or advanced database features that are not offered by the public or private cloud. The private cloud is beginning to slowly enable advanced database features, so it may eventually serve as an alternative to bare-metal hardware.

Disaster recovery architecture runs applications in the private cloud that failover into a public cloud. The benefit of using the public cloud for disaster recovery, is that it eliminates the need to provision infrastructure across numerous data centers. Using the public cloud model, disaster recovery can be accomplished at a much lower cost. Align's Disaster Recovery Service solution employs best-of-breed technologies to replicate any virtual machine to one or more Align Cloud data centers in real time, where on-demand compute and storage service are reserved and in hot standby. Built on an EMC VSPEX Labs and VMware vCloud certified platform, our solution provides complete disaster recovery coverage. Align supports a flexible list of connectivity options, accommodating legacy application replication and exclusive access to your choice of firewalls and routers.

The architecture that can become the most challenging is known as cloudbursting. In this approach, the environment may rely initially on the private cloud, but due to unforeseen circumstances or poor planning, they are forced to "burst" into the public cloud, once the capacity of a private cloud has been reached. Individual servers will be spun up in different clouds to extend the private cloud capacity. The downside of this type of complex architecture is that infrastructure hurtles may present themselves at inconvenient times.

Regardless of the speed of business growth, application lifestyle stage or architecture, the hybrid cloud can provide the agility, performance and flexibility that your organization demands.
DEBUNKING MISCONCEPTIONS: Hybrid Cloud is More Expensive than the Public Cloud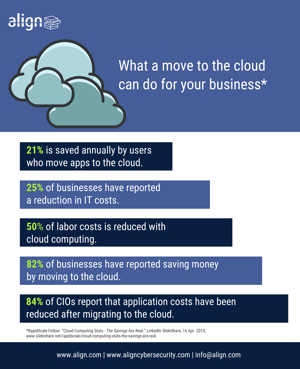 Hybrid cloud can meet one of the top priorities of businesses: cost optimization. Hybrid cloud can combine services and capabilities to meet business goals. Not only does this cloud model provide flexibility and scalability to meet evolving business needs, but it offers the benefit of significantly reducing the IT budget.
Resources on Demand
Being able to leverage the on-demand processing power of the public cloud, when you need raw computing power for a brief period (i.e. data crunching), is more cost-effective than using private cloud exclusively, which may be over or underutilized. An under-allotment of private cloud may force you to over-purchase additional capacity to meet peak demands. If, on the other hand you, "buy the base and rent the peak," private infrastructure is used to cover base-level demands and public cloud infrastructure is used to augment the capacity, saving you money. Many businesses find that they reduce IT costs after they have connected on-site infrastructure to the cloud.

An inherent cost benefit of utilizing the hybrid cloud model is saving on maintenance costs, power, cooling and physical expenses associated with on-premises infrastructure, which can be unpredictable. Some cloud service providers offer cloud retention billing: in other words, a predictable cloud bill. An additional cost benefit is the reduced in-house IT staff. Retaining the services of a cloud provider entails a dedicated team of external IT experts, allowing internal personnel to avoid troubleshooting and disruptions to productivity.
Backups
Another way to save on expenses with hybrid cloud is with hybrid cloud backup solutions. Previously, performing backups to tape was both expensive and time-consuming. Now, being able to rely on backing up to the cloud—with a guarantee that you can restore in minutes—illustrates how it can not only save you money, but your data and reputation! Using hybrid cloud backup, a local backup is kept in addition to an off-site backup, providing data security, redundancy and insurance. The data can be kept on local infrastructure, and can be sent via an encrypted channel to off-site data centers. Being that storage in the public cloud is essentially unlimited, you can pick and choose how to retain data based on business requirements. This is especially beneficial to small businesses that may require greater flexibility when local backup storage becomes insufficient.

Align's Hybrid BaaS—Backup as a Service—offers an easy-to-use and easy-to-deploy platform. This is available via self-service and turnkey fully-managed options, allowing you to take advantage of the Align 24/7 year-round NOC to operate and validate backups each night and perform restorations as needed. Using this service, backups are sent off-site to multiple cloud data centers. Recent backups are kept on a small client disk targets, allowing for fast restoration. Additionally, end-to-end encryption with optional client only keys are offered. With fully managed turnkey services you are in complete control.