The following article originally appeared in Channel Futures and was written by Allison Francis.

During this exclusive interview with Channel Futures, Vinod Paul, chief operating officer at Align, talks about the company's early adoption of the cloud and helping customers make seamless managed service provider (MSP) transitions.

The cloud managed services market is growing, which is fantastic news for MSPs. Vinod Paul, chief operating officer at Align, says that the company has been in the game since before the public cloud was cool, which has given it an edge in terms of innovation and growth, and the benefits it can provide to clients.

"Fundamentally, the technologies exist and are available to every MSP," says Paul. "Align's early adoption of the public cloud and technologies around the public cloud have enabled us to realize the advantages of configuring and using the technologies for our clients' benefits."

Here, Paul talks about Align's early adoption of the cloud, providing exceptional client service and helping customers make seamless MSP transitions.

Channel Futures (CF): What was the single biggest technology or business decision that drove your company's growth in 2018? How did it do so?

Vinod Paul (VP): Many managed service providers are trying to navigate how to leverage innovation with the public cloud. As an early adopter of public cloud technologies and becoming a Microsoft Tier 1 Cloud Solutions Provider (CSP) and Gold Partner, Align was able to leverage public cloud innovation ahead of other firms; furthermore, we were able to pass on those benefits to our clients at cost-effective prices, enabling them to grow and evolve without driving up costs. The Align managed services team also dedicates full-time resources to innovation.

CF: What does Align do differently?

VP: At Align's core, our fundamental principles center around providing exceptional client service. We ensure this belief is carried throughout the delivery of all our managed services. We often run into other managed service providers in competitive bids, but our greatest strength during the sales process has been the customer testimonials we can offer. These success stories and feedback from our existing clients have provided potential customers with peace of mind, insight into the benefits they will experience from our services, as well as assurance.

Align does not have a traditional sales team as many other MSPs do; instead, we nurture our client relationships into true partnerships that are built upon the foundation of trust and mutually beneficial relationships. For Align, fostering strong client relations goes beyond contracts and services — we listen to their needs and curate solutions to address their unique IT requirements.

CF: What are you seeing in the industry that's not talked about as often as it should be?

VP: A topic of MSP thought leadership that is not often talked about, and one we have witnessed much turmoil in, is switching managed service providers. Align has helped numerous clients make seamless, efficient transitions away from their previous infrastructure technology partners to our comprehensive managed IT services stack. The cornerstone to our success is the thought process that we are not only changing technology platforms, but we are helping firms transform the way they do business.

Today, new technologies, regulatory requirements, cybersecurity threats and innovations are emerging daily, causing firms to grapple with the decision to make this transition, among other reasons. However, if a company is dissatisfied with its current MSP, the benefits of switching to a different IT consultant that meets their unique business needs far outweigh the costs of not doing so. To help companies better navigate this journey, Align has created thought leadership around this topic.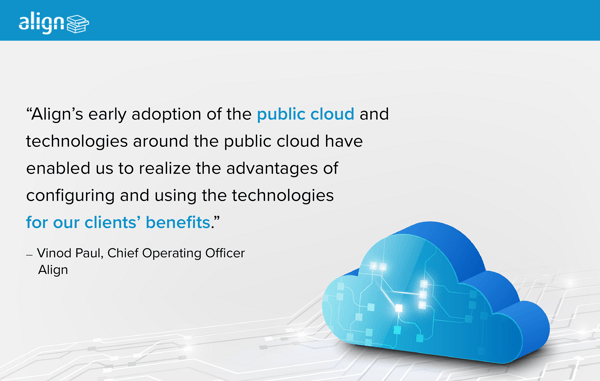 Interested in learning more?
Reach out to a managed services and cloud computing specialist at Align today by clicking here, or on the button below.