Cloud technology has become an integral component in digital transformation plans for businesses and in addressing several challenges during the pandemic, such as maintaining collaboration, security and efficiency.
As cloud offerings continue to expand and evolve, companies need to understand the various cloud environments. Keeping up with cloud innovations will help eliminate knowledge gaps and identify the right solution for a company's unique needs.
In this blog, we've dispelled five major myths about the public cloud. You might be surprised by what you find.

Myth #1: The Public Cloud Lacks Robust Security
This misconception stems from the idea that storing sensitive data and documents in shareable locations makes organizations more vulnerable to data breaches. However, according to a Forrester Consulting Total Economic Impact™ (TEI) Study conducted in May 2020, customers that deploy Microsoft Cloud App Security are 40% less likely to experience a data breach. This reduction in likelihood presents a potential savings of $1.6 million over a three year period.
Furthermore, the study results demonstrate that businesses investing in Microsoft Cloud App Security can automatically eliminate 75% of threats due to automated threat protection and improved visibility.
Public cloud users report greater data security when deploying data-sensitive applications. Not only are all of your files encrypted, but most public cloud service providers (CSPs) offer constant monitoring to track and mitigate potential threats to your organization. It's also recommended that companies continue to stay up-to-date with cybersecurity best practices and continue to educate employees with continuous cyber awareness training on a routine basis.
Myth #2: Migrating to the Public Cloud is Difficult and Costly
Another myth surrounding the public cloud is that it is a substantial financial burden for businesses to migrate to when, in reality, it presents enormous cost-savings. Forrester's study that interviewed firms using Microsoft Cloud App Security found that organizations can realize an ROI of 151% over three years!
With the public cloud, businesses do not need to invest in expensive hardware or application infrastructure, unlike private clouds. When firms invest in this model, they only pay for the resources that are consumed as they consume them.
With access to cloud resource utilization insights, companies can more efficiently optimize their cloud spend to get the most value out of their experience while better managing costs. For instance, if an organization does not need its virtual machines over the weekend, it can turn them off to reduce spending.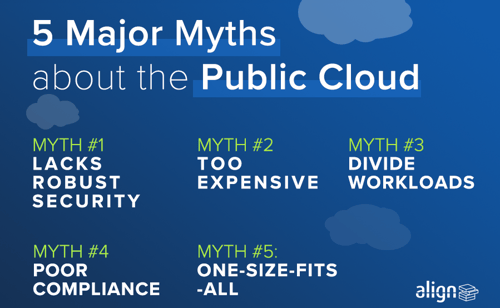 Myth #3: Dividing Workloads Between Providers is Necessary
Using multiple cloud service providers helps prevent system overloads. However, using certain providers to optimize and support a single type of workload is never necessary. In fact, it increases frustrations and negatively impacts productivity as users are required to log into multiple systems and set each one up.
Some public CSPs simplify this tedious process by offering solutions like a single-sign-on (SSO), allowing cloud users to log in to all their programs with a single login.
Myth #4: Staying Up-to-Date with Compliance Requirements is Difficult
Some organizations believe that working with a third-party cloud service provider will make it harder to comply with data protection regulations. Although not every third-party cloud provider can meet your industry's specific requirements, there are many public CSPs out there that can.
This is where performing adequate due diligence when evaluating managed service providers and managed cloud solutions come into play.
Companies that transition to Microsoft Azure, for example, reap numerous advantages, including proactive security and streamlined compliance. The cloud platform has over 90 compliance offerings and meets a range of international and domestic regulatory needs and industry-specific standards. Microsoft empowers firms to evaluate compliance and confirm whether apps are compliant with your company's standards, including GDPR, SOC2 and HIPPA.
The ideal public cloud service provider will understand the importance of meeting your business's security, cybersecurity, and privacy requirements. As a Microsoft Tier 1 Cloud Solutions Provider (CSP) and Gold Partner, Align helps customers determine the best cloud solutions to mitigate risks and meet compliance requirements.
Myth #5: The Public Cloud is a One-Size-Fits-All Solution
The concept that the public cloud is a one-size-fits-all solution is entirely false. The public cloud is a versatile and flexible platform that can offer sophisticated solutions to meet your unique business needs.
The scalable nature of this cloud computing environment is the ideal solution for companies looking to:
Reduce spending and improve cost management.
Save resources and time so teams can focus on priority projects.
Improve productivity and connectivity, which has become paramount given the recent shift to remote work.
Grow seamlessly by scaling up and down as needed. One of the top conveniences the public cloud offers customers is the ability to use the resources you need; instead of having to purchase a one-size-fits-all solution.

Are you interested in realizing the benefits of public cloud computing?

Align offers multiple managed cloud solutions to fit your business's current and future requirements and has extensive experience delivering the public cloud to customers.

Check out one of our real-life customer success stories with Cross Lake Partners LLC, an independent, privately held real estate investment firm. Align's Managed Public Cloud Services team was able to modernize Cross Lake Partners' infrastructure and transition them to Azure within 90 days, improving agility and efficacy, among other advantages.