NEW YORK, NY – June 4, 2018 – Align, the premier global provider of technology infrastructure solutions, today announced it has been named to CRN's Solution Provider 500 for the second year in a row.
For over 30 years, Align has offered an ever-expanding suite of professional and managed services, providing industry-leading technology solutions to some of the most high profile companies in the world. From data center design and build to cloud migrations, Align is committed to providing award-winning, tailored solutions that address each of our clients' unique business needs.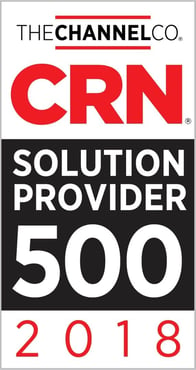 The Solution Provider 500 is CRN's predominant channel partner award list, serving as the industry standard for recognition of the most successful solution provider companies in the channel since 1995. The complete list will be published here on CRN.com, making it readily available to vendors seeking out the top solution providers to partner with.
"Industry leadership and championing customer service are at the core of what we do, and it's an honor to be recognized by CRN's Solution Provider 500 for the second consecutive year," said Vinod Paul, COO of Align. "In our 30+ years of business, we have expanded our suite of services and addressed the latest technical and regulatory challenges innovatively to provide best-in-class IT solutions for companies across industries. The pursuit of excellence and attention to detail throughout our end-to-end services provide our clients with the edge they need to compete in an ever-evolving technological space."
"CRN's Solution Provider 500 list spotlights the North American IT channel partner organizations that have earned the highest revenue over the past year, providing a valuable resource to vendors looking for top solution providers to partner with," said Bob Skelley, CEO of The Channel Company. "The companies on this year's list represent an incredible, combined revenue of $320 billion, a sum that attests to their success in staying ahead of rapidly changing market demands. We extend our sincerest congratulations to each of these top-performing solution providers and look forward to their future pursuits and successes."
Align's novel approach offers a suite of IT Managed Services, Professional Services and Data Center Solutions. The company's portfolio of services, include, but are not limited to: Managed Cloud Services (Hybrid, Private and Public Cloud), Colocation, Align Cybersecurity™ (Comprehensive Cybersecurity Risk Management), 24/7/365 Help Desk/Support, Data Center Design, Build, Consolidation and Physical Migration, Workplace Technology Solutions, Application and Workload Migrations, Audio Visual (AV) Design Consulting and Integration Services, and Systems, Networks and Security (SNS).
The complete 2018 Solution Provider 500 list will be available online at www.crn.com/sp500 and a sample from the list will be featured in the June issue of CRN Magazine.

About Align
Align is a premier global provider of technology infrastructure solutions. For over 30 years, leading firms worldwide have relied on Align to guide them through IT challenges, delivering complete, secure solutions for business change and growth. Align is headquartered in New York City and has offices in London, Chicago, San Francisco, Arizona, New Jersey, Texas and Virginia. Learn more at www.align.com and www.aligncybersecurity.com.
About the Channel Company
The Channel Company enables breakthrough IT channel performance with our dominant media, engaging events, expert consulting and education, and innovative marketing services and platforms. As the channel catalyst, we connect and empower technology suppliers, solution providers and end users. Backed by more than 30 years of unequaled channel experience, we draw from our deep knowledge to envision innovative new solutions for ever-evolving challenges in the technology marketplace. www.thechannelco.com
---
Press Contact Information
Align
Katie Sloane
+1 212-844-4078
ksloane@align.com