Align Ranked Among the Top Global Managed Service Providers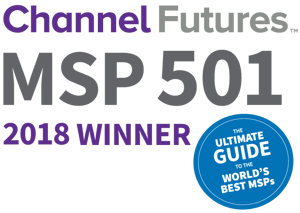 NEW YORK, NY – July 12, 2018 – Align, the premier global provider of technology infrastructure solutions, today announced it has been named to Channel Futures' 2018 MSP 501 ranking list, placing 45th. The MSP 501 list recognizes top managed service providers based on metrics including recurring revenue, growth and other factors.
The MSP 501 is the IT channel's first, largest and most comprehensive ranking of managed service providers worldwide. This year, Channel Futures received a record number of submissions, with applications from Europe, Asia, South America, North America and beyond.
"We're thrilled to be recognized on this esteemed list of managed service providers, representing the most forward-thinking and innovative organizations in the industry," said Jim Dooling, CEO of Align. "This is another big indication of Align's exceptional work and the results gained by being a trailblazer of IT Managed Services, Cloud Solutions and Cybersecurity Advisory Services. Our team's dedication and applied passion, coupled with strategic solution enhancements, are the cornerstones to our success along with our clients'."
"This year's applicant pool was the largest and most diverse in the history of the survey, and our winners represent the health and progressivity of the managed services market," says Kris Blackmon, Channel Futures content director and editor of the MSP 501. "They're growing their revenue, expanding their customer influence and exploring new technology that will propel them for years to come."
"This industry is driven by the ability to respond to increasingly complex and demanding challenges facing modern businesses," said Vinod Paul, COO of Align. "Align has continued to expand the services we offer, cultivating and searching out top talent and staying on the cutting edge of new technology to provide the absolute best in IT solutions for our customers. It's an honor to be recognized on this list among our respected industry colleagues."
Align's custom Managed Services Solutions include, but are not limited to:
Cloud Services: Align Managed Public, Private and Hybrid Cloud Solutions
Align Cybersecurity: Comprehensive Cybersecurity Risk Management
Real-Time Device and Application Monitoring
24x7x365 IT and Infrastructure Support
Colocation Services
Scalable Resourcing
Fully Managed IT Operations
Managed Data Protection Services: Backup as a Service (BaaS) and Disaster Recovery as a Service (DRaaS)
The full MSP 501 report, available this fall, will leverage applicant responses, interviews and historical data to identify business and technology trends in the IT channel. The complete 2018 MSP 501 list is available at Channel Futures.
About Align
Align is a premier global provider of technology infrastructure solutions. For over 30 years, leading firms worldwide have relied on Align to guide them through IT challenges, delivering complete, secure solutions for business change and growth. Align is headquartered in New York City and has offices in London, Chicago, San Francisco, Arizona, New Jersey, Texas and Virginia. Learn more at www.align.com and www.aligncybersecurity.com.
About the Channel Company
The Channel Company enables breakthrough IT channel performance with our dominant media, engaging events, expert consulting and education, and innovative marketing services and platforms. As the channel catalyst, we connect and empower technology suppliers, solution providers and end users. Backed by more than 30 years of unequaled channel experience, we draw from our deep knowledge to envision innovative new solutions for ever-evolving challenges in the technology marketplace. www.thechannelco.com
---
Press Contact Information
Align
Katie Sloane
+1 212-844-4078
ksloane@align.com