InfoComm 2022 recently took place in Las Vegas, demonstrating some of the latest and greatest in Audio-Visual technologies for businesses. The Align Workplace Technology team attended the event and encountered some of the most exciting improvements, advancements, and additions to the hybrid workplace.
InfoComm Highlights from the Align team: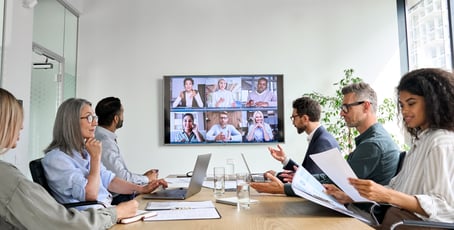 Align's Takeaway
A recent survey found only 8% of New York City office workers are back full time and that 78% of businesses have adopted a hybrid work model, making it clear that the hybrid workplace is here to stay. And with the extensive presence of collaboration tools and technologies demonstrated at InfoComm, it's safe to say the workplace technology industry is on board. With these continual improvements, employees will be able to collaborate seamlessly whether they're in the boardroom or their home office.
However, there is still the sobering reality of lingering supply chain issues stemming from the pandemic and international tensions that has resulted in shortages of vital materials and chips. Many manufacturers are predicting that new stock of their most popular items won't be available for purchase until next year. While some products are available now, other critical items are not, and even the design of new products to fill these gaps are suffering longer lead times due to the materials shortages.
Align Workplace Technology solutions are built with the hybrid enterprise in mind, and our experts have extensive experience navigating challenges even on a global scale. To learn more about our solutions and how we can help transform your workplace, talk to an expert today.