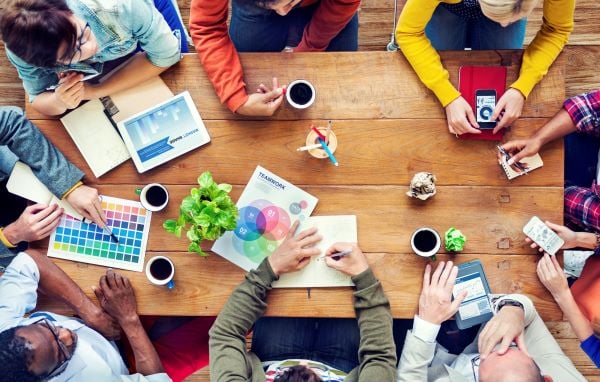 According to a recent report by JLL, "With available office space outpacing demand, coupled with a significant flight to quality by companies, landlords are vying for tenants with more generous improvement packages." If your organization is considering a location change or significant office redesign to take advantage of these market factors, it's crucial that you consider engaging with an IT advisor early in the process. You will avoid potential oversights (like a late decision to have wayfinding systems installed throughout the office and having to install cabling and electric behind finished walls).
In today's blog, our experts share some key ways the right IT advisor will save your firm's precious capital while improving project management and your overall office design. (Photo Credit: rawpixel.com)
Site Selection Process
Prospective tenants should consider that carrier access and build costs are lower in well-connected buildings where the firm's preferred carriers already have a presence. This approach eliminates or reduces initial capital costs for the carriers to wire the building and expedites deployment. You can save considerable budget instead of having to pay carriers to build connectivity into your new building in a raw open space.
The Building Itself
There are also key building characteristics to consider including slab to slab height, the size and continuity of vertical pathways, existing power and cooling systems, the size and location of support spaces, separation/integration of building systems and security. A specialized IT advisor can evaluate these characteristics and estimate the cost required to adapt the building to support the firm's IT infrastructure. Other building considerations include landlord provided services like physical security, cellular signal augmentation, building automation, etc. These services can often be bundled into the lease cost and can be far less expensive than building them independently.
Optimize Your Square Footage
For a major undertaking like this, there will undoubtedly be many stakeholders involved, each with his or her unique deliverables and IT needs. Further, groups within an organization that require IT and AV support continue to grow. It's imperative that you identify the requirements from the broader group as early in the development process as possible. Integrating IT into the visioning and programming phases enables IT to provide more accurate cost and duration for implementing solutions and allows IT to guide solution development towards lower costs or increased capabilities. Utilizing occupancy and workflow studies will arm you with data to understand which tech is indeed required vs. which tech sits idle.
Leverage Your Vendors
Each vendor requires a specialized negotiation. For example, prolonged or multi-phased projects can be discounted on the total purchase rather than each phase. Additionally, you can leverage the logistics for payment and shipping which can greatly reduce storage and early-stage procurement costs. Finally, manage your integrators where they can provide value: staging, logistics, design support. For example, your integrator can house the network equipment, build, test and configure in advance. The integrator can then ship when the site area is fully ready with the equipment prepared for your team to use on Day 1. These tactics will also facilitate a more efficient logistics process overall, reducing labor and storage costs throughout the project.
Smarter Design
An IT advisor will propose right-sized solutions for the environment. The IT advisor can evaluate design proposals as "fit for purpose" looking at elements such as resiliency. It is critical to establish and impose standards wherever possible across network, cabling, AV, room types. Standardization gives your team future abilities for easy troubleshooting and the freedom to rapidly scale while maintaining your firm's overall brand and user experience. WiFi is a prime example as a viable option to leverage lower cost connectivity where possible. An IT advisor will understand which components are appropriate to use a "pay as you go" model vs. purchase.
Conclusion
IT costs can vary widely during an office fit out. By working with the right IT advisor to provide solution integration, you can identify opportunities for cost savings, smooth the directives and address the wide range of requirements from your various stakeholders early in the process and keep the project on schedule and avoid expensive change orders. Contact Align today to learn how we help our clients navigate complex office builds, elevate their brands within the space and take their overall user experiences to the next level.