Overview
The use of mobile devices (computers, tablets, smartphones and other devices) and bring your own device policies (BYOD) has increased in popularity over the last few years. Work mobility has become a crucial part of modern workplace culture since it allows companies to deliver on projects faster, provide more efficient customer service and increase overall workforce efficiency.
The downside to this is that organizations require additional measures for security, connectivity, privacy and device management. How can an organization securely monitor and manage all company-owned and employee-owned devices?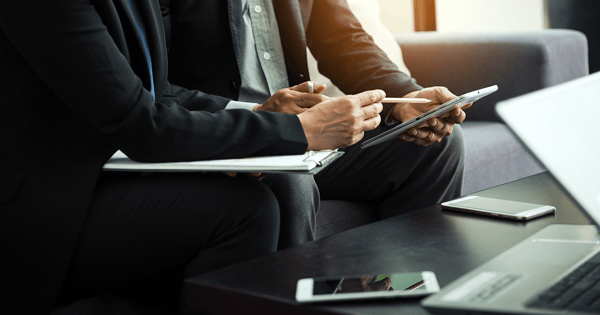 The answer is mobile device management (MDM), which is a security software and service that helps IT administrators secure formal policies, permission rights and applications across multiple providers and platforms. The company's IT administrator can monitor all mobile devices in order to safeguard all business applications and confidential assets in remote locations. With security and data breaches increasing each year, MDM is becoming a key component of many companies' cybersecurity program.
In this blog, we discuss the evolution of MDM as well as the various benefits it has for organizations.
Evolution of MDM
The entire field of MDM has continued to evolve as more companies are bringing on more mobile devices in their office. The increase in mobile adoption has required IT teams to create programs for monitoring these devices to ensure that their applications and data are safe when accessed off-site. In earlier solutions, MDM focused on device management and providing IT administrators access in remote locations. Nowadays, newer solutions take a closer look at application and content management to ensure that employees can safely access their information whenever and wherever.
Key Benefits
Improved Security
MDM helps mitigate security risks when employees are working remotely, allowing IT administrators to monitor their network and data. All company-owned files are encrypted and require mandatory passwords to access. In addition, IT service providers, like Align, provide 24x7x365 monitoring in combination with MDM security software that helps detect threats before entering a network. These MDM security controls act as an extension to an organization's overall breach prevention strategy and are highly recommended to have.
Remote Device Management
Remote device management allows IT service providers to remotely monitor their employee's endpoints, networks and computers. They can wipe and configure an employee's device from any location and also provide IT operational support in remote locations. MDM gives companies the flexibility to work with an outside provider so that internal IT resources can be used on projects that are pressing for business growth.
Application Control
With MDM, you can ensure that all applications on your employees' devices are up-to-date and patched to defend against identifiable security threats. Your IT administrator can centrally control and audit these updates, so that it doesn't just protect your company's devices and data, but also ensures that your business is meeting government compliance.
Conclusion
Without MDM, devices have increased exposure to malware and other viruses. Sensitive business information can quickly end up running into the wrong hands when employees are working remotely which could result in a data breach. With the rapid adoption of smartphones, tablets and laptops, and the increasing number of employees working from home or non-traditional locations, mobility solutions are a must have for these types of businesses.
Align CybersecurityTM , the company's comprehensive cybersecurity risk management solution provides legally sound, regulatory compliant and workable solutions that are continuously monitored, periodically tested and annually evaluated and enhanced.
For more information about Align's comprehensive cybersecurity services, contact us here or email at cyber@align.com