Align Ensures Successful Data Center Migrations for Global Health Insurance Agency During Pandemic
ALIGN IMPLEMENTS SAFETY POLICIES AND PROCEDURES TO MITIGATE RISK AND MEET ALL PROJECT DEADLINES
The Overview
Align conducted a significant data center migration effort for a major healthcare client, servicing over three million clients in New Jersey. Data center migrations can be complex projects on their own, but this project was complicated by kicking off just as the COVID-19 pandemic was at its' peak in the greater NY/NJ metropolitan area.
Business Objective & Scope

The client sought to migrate hundreds of devices from one data center to another to achieve greater operational efficiency, reduce data center costs, and eliminate legacy applications. The project included an inventory assessment and validation as well as cable tracing documentation.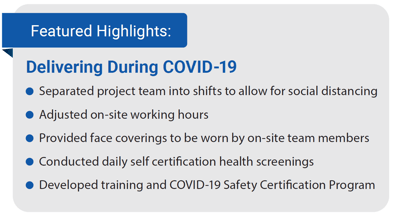 Unforeseen Challenges
The project was approved just prior to the early days of the COVID-19 pandemic's spread to the US, and obviously many concerns and questions arose regarding the health and safety of everyone involved.
As with most locations in the area, the source building quickly implemented very strict restrictions about building occupancy and who could enter the building and when. These issues were compounded by the logistical difficulties created industry-wide by the pandemic, as the availability of personnel and technical resources were suddenly and drastically affected. This obviously created a myriad of complications to the project timeline, affecting the cable tracing, patching, inventory validation, and other stages of the project.
Delivering Above and Beyond

Align worked closely with the client to ensure that every health and safety protocol was followed to safeguard all personnel involved in the project. All planning tasks with key stakeholders and project team members were conducted remotely. The Align team quickly provided the client with a revised project plan taking into account the existing risks and concerns. Project teams were then separated into shifts to allow for social distancing and the team adjusted their on-site working hours to adhere to the building's new strict requirements.
Align successfully adapted to the new situation at hand, and was able to seamlessly conduct five migration waves, moving hundreds of devices to the new data center while meeting all health, state and site guidelines. In total the team inventoried over 250 devices, and performed cable tracing to ensure patching schedules were accurate for the new site.
The Align Migration team continues to conduct inventories and perform lift and shift migrations while meeting all health, state and site guidelines.
Learn more about how Align can help design and deliver programs that mitigate risk and deliver transparency into you environment.