Projects like relocating or consolidating an office space, designing and building a new data centre facility, or setting up new audio-visual technology, it is critical that you have a knowledgeable and skilled leader at the helm. After all, a good project manager can mean the difference between a successful upgrade and a lot of headaches during or even after completion.
"There are a lot of moving parts involved in all type of technology projects," says Senior Project Manager in Workplace Technology Michael Pender. "A good project manager requires the right combination of skills such as communication, leadership, and adaptability to name a few. By ensuring your project managers cultivate these skills, you can be confident they will rise to the occasion of any challenges throughout the duration of the project and leave a lasting, positive impact on their teams and organizations."
Given this, we've compiled a list of the most important factors you should
consider in a future project manager:
Experience and Knowledge – Experience in the specific domain of the project you're looking to begin working on can be very valuable when it comes to providing appropriate guidance and input. Project Managers who have worked in the field of your business in the past can bring insights into processes, vendors with which they have worked before, and even more that are specific to the area of your project.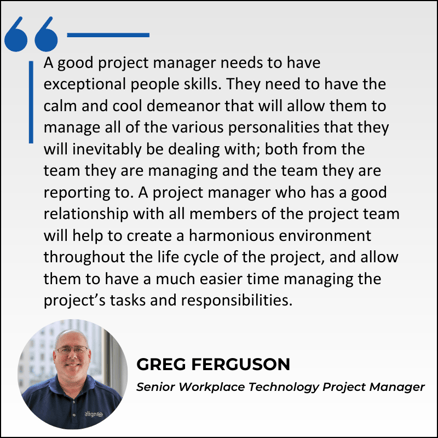 Leadership skills – A good project manager can inspire and motivate their project team, set clear goals and expectations, and effectively communicate with stakeholders. Strong leadership skills can be paramount to ensuring projects are completed correctly and on time.
Communication – Effective communication is crucial for project managers. They clearly convey information, actively listen to the project team and stakeholders, and resolve conflicts that may arise during the project.
Organisational Skills – Project managers who are highly organised create and manage project plans, set priorities and allocate resources to ensure the tasks are completed on time, on budget and within scope.
Problem-solving abilities – It is often unavoidable that projects encounter challenges and obstacles, sometimes completely out of our control. A skilled project manager can think quickly on their feet to identify problems, analyse them, and come up with effective solutions to keep the project on track despite these challenges.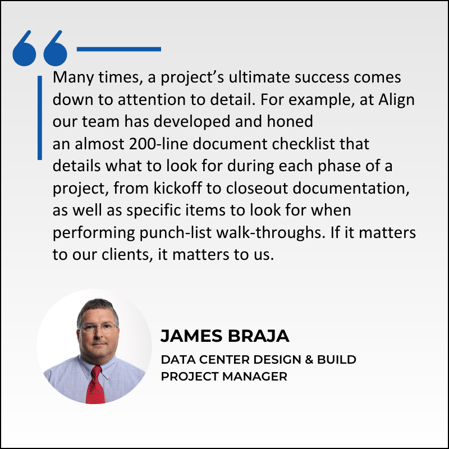 Risk management - Assessing and managing risks is an important aspect of project management. Your project's lead should be skilled at identifying potential risks, developing mitigation strategies, and adapting plans when necessary—all while communicating if and when issues arise.
Flexibility/Adaptability - Projects can be dynamic and unpredictable. Project managers can adjust plans and strategies as needed in response to changing circumstances.
Attention to Detail - Attention to detail is an essential quality of a project manager. It involves being meticulous and careful in all aspects of the design/project and it's vital to maintain high-quality standards.
"Align Project Managers are one of our best assets as a business," says Giulia Marcolina, Managing Director of Align London.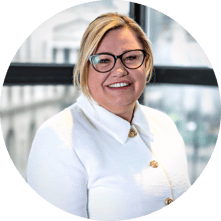 "Their highly focused expertise and industry knowledge make working with them a positive experience for our clients. Projects under their guidance are successful because our Project Managers are prepared and experienced in the unpredictable nature of project-based work and have the strategic processes and tools at their fingertips to deliver results."
At Align, we ensure our project managers are held to the highest standard. Before assigning them to projects, we consider several main criteria, based on our reliable process, people, and tools:
Process: Our proven four-phased method is structured to address and effectively manage your technology project from beginning to end
People: A focused group of experts with solid track records of success who combine project management skills with superior technical and business knowledge
Tools: State-of-the-art applications and tools, a comprehensive understanding of the newest technologies and certifications and training in a wide variety of disciplines
With this proven framework to guide us, our project managers are assigned to be the most beneficial to your business and project. Your dedicated Align project manager plays a critical role in the successful execution of a project, and under their guidance you can be sure that it is delivered on time, within budget and to the satisfaction of the stakeholders involved.
When it's time for your next project, contact Align to work with one of our standout project managers.