Integrated Systems Europe (ISE) 2023 recently took place in Barcelona, and Align's London team was in attendance taking in the sights, sounds, and technologies demonstrated across the conference floor. Overall, the conference reiterated what we already know: the hybrid workplace is here to stay. But, at what cost - and how do you address the issues distributed teams face to minimise headaches among your professionals?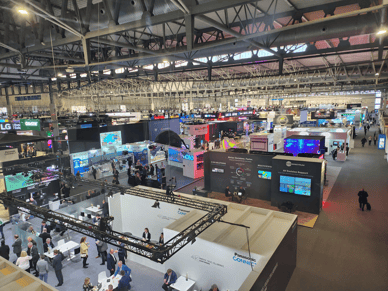 Meeting room technology needs to be more engaging for remote participants who oftentimes are missing out on a lot of the non-verbal cues of effective communication. Additionally, complex and outdated meeting room technology can make it difficult for participants to speak up or get the attention of other meeting attendees. Below, we highlighted some of the top technologies demonstrated on the conference floor for making hybrid meetings more productive.
Hear key takeaways from Joel Hauxwell, Align's Senior AV Consultant, who was in attendance at the ISE show in Barcelona: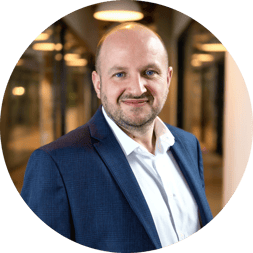 "While attending Integrated Systems Europe we discovered so many exciting and innovative products that will further facilitate the new normal, the hybrid workplace. As consultants in workplace and AV solutions, we are eager to introduce these new products and technologies into our client projects to further enhance the user experience both in and out of the office. It's an exciting time in technology—there are more tools to choose from in our toolkit than ever before."
Humly

Workplace Solutions
Humly was demonstrating a suite of products they have released that are designed to manage a flexible office. It includes systems to manage room and desk bookings, wayfinding, floor planning, visitors, and more. This makes managing the modern office much more simple by offering a single pane of glass solution.
Epson 21:9 Projection
New projection from Epson offers 4k projection with an ultra short throw lens that is specifically optimised for Teams rooms when using the new "front row" layout. The system was demonstrated with ambient light rejecting screen technology to ensure correct black levels and contrast occur throughout video conferencing. This enables a better video call experience for all users.
Crestron Sightline Room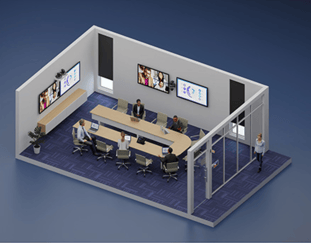 Crestron demonstrated their AI-driven solution for inclusive hybrid meetings that leverages multiple pieces of equipment to create a more immersive and collaborative experience. The system includes a multi-camera solution with auto-tracking, framing, and switching to create seamless sightlines in a room with multiple contributors. It also leverages industry-leading 3rd party ceiling array microphones to automatically calculate camera positions.
Arthur Holm
This manufacturer of motorised solutions for monitors, loudspeakers, and microphones demonstrated some high-end boardroom and VIP meeting room applications from monitors and microphones in device-per-seat deployments.
Joan
These room scheduling displays use e-ink technology for a room scheduling system that consumes 99% less energy compared to LCD screens. They are also made from sustainable materials.
Hear what Giulia Marcolina, Managing Director of Align London, has to say about the Joan Scheduling Display: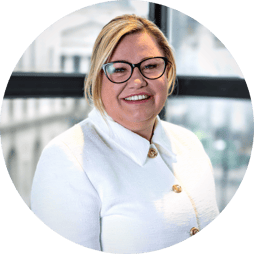 "What I like about the Joan products is that they have taken sustainability very seriously when creating their product line. The product design has a positive effect on the environment using recyclable device components, and taking into consideration the packaging of the devices by using fully recyclable paperless cardboard. We believe most manufacturers are looking into making similar changes on sustainability with the environment—it's a slow process, but it is happening. As Align consultants it is our responsibility to recommend products based not only on their quality, but on their overall impact on the environment and society as a whole so we can be sure to do our part to remain sustainable."
Mersive

Solstice
This simple collaboration platform for meeting spaces features inbuilt flexible routing for video and audio routing without the need for a matrix switcher. They are particularly useful for UC agnostic BYOM scenarios.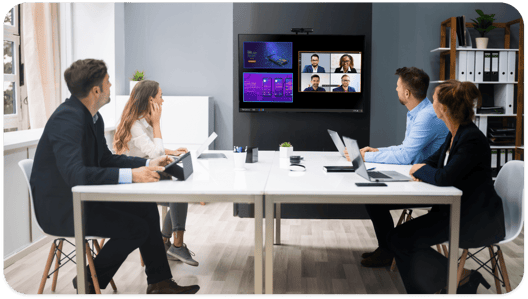 Align Can Help
At Align, we understand the challenges associated with creating meeting equality and are dedicated to sourcing relevant technical solutions to mitigate these issues. Our Workplace Technology team is actively involved in client projects right from the start—we provide useful insights into the design process to ensure the correct User Interface programming. Additionally, our experienced team of audio-visual professionals are able to provide insight into room acoustics to mitigate potential intelligibility issues.
We have been reimagining workplaces in the image of the hybrid work environment for years. Our team of well-seasoned professionals have a wealth of understanding that enhances all aspects of the workplace, spanning from audio-visual to access control, and asset management and disposal.
Contact our team today to learn how we can help you reimagine your workplace.