Migrating to the cloud is typically framed around the applications, dependencies and processes that are the core of your business. In today's blog, our experts discuss some important network considerations that are also critical for your successful cloud migration program.
Your Network Is Key
While the cloud offers scalability and flexibility, it will be severely limited by an insufficient network or an inability for migration members to coordinate efforts. It is critical to remember your cloud migration's success is anchored to the network. The network is what end users rely on to access cloud resources. Additionally, application performance is directly tied to its underlying network. As businesses grow, firms are expected to operate and manage applications seamlessly and to scale on demand. Only a robust network can be expected to meet this challenge and keep companies competitive in the new digital age.
Bandwidth Requirements
One key network challenge created in migrations to the cloud is specifying bandwidth requirements of cloud-hosted applications. Cloud-hosted applications should demonstrate similar or better performance vs. on-premise deployments. If proper network bandwidth is not available for the application to perform, it will result in latency, a degraded user experience and potentially unmet business application requirements. An incomplete understanding of the constraints of bandwidth and latency will eliminate any advantages of cloud migration.

You must seriously consider these network constraints prior to initiating your move. Network technology modeling tools can help you evaluate present application performance and identify areas for improvement pre-migration. By examining these areas, you can determine and plan application requirements.
Challenges for Legacy Networks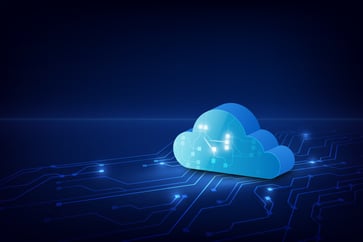 Legacy networks present issues with cloud flexibility and your ability to rapidly scale on-demand. Older, router-based enterprise networks are often built via many routers and complex configurations. Without the proper assessments, months of time can be spent implementing enterprise-wide network changes, which is impractical in keeping up with business demands during any cloud migration.
Another challenge is controlling the network paths of applications across users and business requirements, which is very difficult considering legacy routing methods and issues can impede cloud migrations. Often the full potential of a cloud migration can only be realized with updated network architecture (potentially with the help of software-defined networking) that will ultimately improve agility, improve network management and lower operational costs.
Properly Allocate Your Network Resources
Some organizations do not have the technical experience to create realistic timetables to complete their migration process. This is especially true when migrating any legacy applications, such as on-premise email systems, and especially individual mailboxes, to Office 365, which can consume a massive amount of networking resources. Properly allocating your network resources an you help migrate data faster and provide some critical predictability so you can minimize any downtime.
Create a Collaborative Migration Team
If your migration team members are siloed, each person will only be interested in the success of his or her specific deliverables. An experienced Project Manager who understands the interplay of all workstreams can guide your team members across all networking, application and security functions. Ensuring a successful cloud migration requires one overall Project Manager to spearhead the project, to ensure all technology teams are effectively communicating and create success criteria that unite their efforts. This will help to maintain both a successful end-user experience as well as business productivity.
Embarking to the cloud is a major business initiative to digitally transform your operations, however, its success requires a robust network and experienced project manager guiding the process.
Trust Align for Your Next Migration
Align's Migration team has successfully migrated over 500,000 servers and applications. Our proven framework includes the governance, process and tools to collect, store and analyze application and infrastructure technology to support future state transformations.
Learn how our certified migration experts can offer your business a fully detailed report on your infrastructure and network, and help guide you through every stage in your migration journey.