If your firm experienced a cybersecurity breach or was the recipient of a regulator's review, would you be prepared? In this latest post, speakers from Cipperman Compliance Services and Align podcast on how to prepare for a cyber-attack, the importance of a sound cyber program and security best practices.
Featured Speakers:
Jon Wowak, Chief Operating Officer at Cipperman Compliance Services
John Araneo, Managing Director and General Counsel at Align
Vinod Paul, Chief Operating Officer at Align
Listen to the podcast below: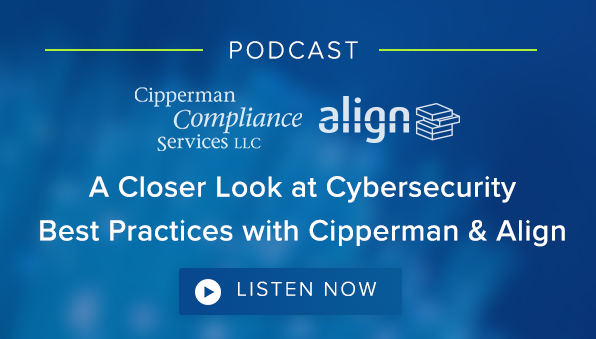 Align Cybersecurity™, the company's comprehensive cybersecurity risk management solution, provides legally sound, regulatory compliant and workable solutions that are continuously monitored, periodically tested and annually evaluated and enhanced.
For more information about Align's comprehensive cybersecurity services, contact us here or click on the button below.