There are many things to consider when designing conference rooms built for hybrid professionals: the technology, placement in the office, and much more. Full-time in-office work is no longer the norm; instead, the new hybrid workplace includes a mix of full-time, part-time, and remote workers.
There is no denying that the COVID-19 pandemic changed work dynamics. The work from home concept evolved overnight to create a connected and collaborative digital work environment. Most people initially intended to work remotely temporarily, but over time, this molded a new type of professional—the hybrid professional.
A study by McKinsey & Company found that about 20 to 25 percent of the workforces in advanced economies could work from home between three and five days a week. Further, and according to The Accenture Future of Work Study, 83% of workers prefer a hybrid work model, with 63% of high-growth companies already embracing a "productivity anywhere" workforce model.
In the wake of these shifts, companies must rethink one of the most vital components of the modern office: conference rooms. So, how does conference room design need to pivot to meet the new requirements of a hybrid work environment? If your organization features hybrid professionals, you need to ensure that individuals working remotely can connect with their on-site teams and vice-versa.
What to Consider When Designing Conference Rooms for the Hybrid Professional
Since office attendances have changed so drastically, you must make new considerations for the layout and capacity of your conference room. If you're expecting a majority of remote attendees, a U-shaped seating arrangement will be the best for collaboration. However, if the opposite is true, a round table should suffice.
Another key consideration is the room's purpose. You already know the answer to this question – meetings. But exactly what kind of meeting will the conference room host? Will the meetings require on-site employees to make illustrative demonstrations for their at-home counterparts? Will the meetings call for interactivity?
These are some of the questions that will guide you and your trusted AV technology experts during workspace design. The answers will also help you choose the right technology solutions to install.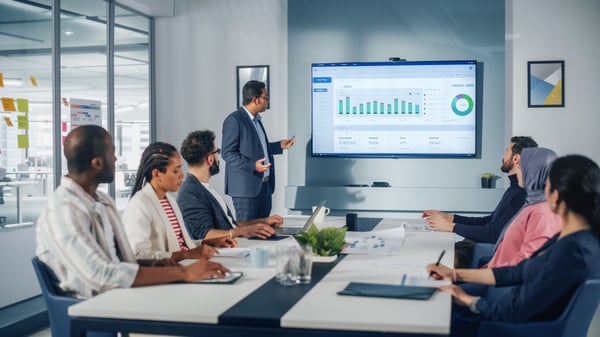 5 Key Ingredients to Designing Conference Rooms Built for the Hybrid Professional
While meeting room designs are bound to vary from organization to organization, there are five hallmarks of a great conference room for the hybrid professional.
Video Conferencing and Collaboration Technology
Effective collaboration is every successful project's cornerstone. As such, ease of collaboration should remain a priority when designing conference rooms. The conference room should feature technology that lets professionals participate in meetings regardless of location. Some of the collaboration technologies to consider include:
An interactive whiteboard that lets teams collaborate during brainstorming sessions

A communication software like Microsoft Teams to allow remote professionals to view, edit, and delete files securely
These technologies and more are imperative to enabling seamless collaboration between your in-office and remote employees. Many of these technologies can be installed regardless of your project type, whether we are working on an existing space or creating one entirely from scratch. However, you will certainly be afforded more freedom when we are able to design the space from the ground up and determine the room's dimensions. For example, in a project like this we are able to install multiple screens or windows so users can run many applications simultaneously.
AV Implementation
Excellent audio-visual technology helps bridge the gap between distributed teams. It is, therefore, a must-have feature in every modern and professional conference room.
AV specialists ensure that your video devices have enough capacity to handle multiple streams without getting choppy. A trained AV technician also ensures that all meeting participants will be visible by creating strategic room layouts and camera placements during the design stage. It is also important to understand the acoustics of the space and adjust accordingly. That way, you avoid echoes or dead spots in the room which could hinder your meeting's productivity.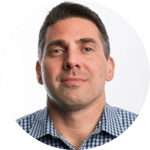 Sal Ricca, Align's Head of Audio-Visual Technology states, "We are always testing new technology to ensure we have the leading-edge solutions for our clients. Most recently, we have adopted new video technology featuring cameras that pan the room as individuals are talking to focus on each speaker."
A Seamless User Experience
During the pandemic, most interactions were via video conferencing software such as Google Meet and Zoom from home. The combination of easy-to-use software and home comfort made for a great user experience for remote workers.
While it's not possible to fully provide home comforts, the conference room should offer a similarly seamless experience of video conferences. The success of your video conferences depends on top-quality audio and video connections, and having video conferencing software is crucial. It should be easy for any hybrid professional to connect their own devices with the conference room's infrastructure.
People require the ability to use their adopted conferencing platform in meeting rooms without limiting accessibility to other platforms. New systems should give users the flexibility to join different platforms from one system. Making this integration easy and seamless ensures that teams are unencumbered when presenting their projects, thus optimizing productivity.
Design and Aesthetics
According to Forbes, employees are more productive and motivated in neat and well-designed workspaces. As much as functionality and utility are key when designing a conference room, the room should be well-organized and void of clutter. Some of the ways to achieve this include:
Oftentimes, your conference room serves as the first impression for new clients, partners, and even professionals. Sleek design and well-organized infrastructure will ensure you leave a lasting, positive impression on visitors and could instill a greater sense of trust in your business.
A Reservation System
Depending on your organization's hybrid work model, different teams will need to use the conference room at different times. This means that if uncoordinated, meeting schedules might clash, leaving teams stranded.
To mitigate this, a conference room for hybrid professionals should feature scheduling software that lets employees book conference rooms for their meetings. The software should also sync calendars across the organization to ensure that everyone can see when the conference room is available.
The Hybrid Office is Here to Stay
A hybrid work model is quickly becoming the new normal. While we've seen a significant shift in the return-to-work movement in large cities like New York, the fact is that most employers are no longer requiring their teams on site 5 days a week. To keep up with the times, you must be sure you are able to provide seamless conferencing to distributed teams, or run the risk of wasting time, and potentially losing money.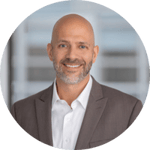 Trey Somers, Align's Managing Director, Workplace Technology states, "The hybrid work model is not a temporary strategy and is here to stay. Align is continually evaluating innovative technologies to build and recommend solutions for our clients that make remote or hybrid environments more collaborative with on-premise employees."
Contact us today to speak to one of Align's AV technology experts and learn how we can help design and build a conference room fit for today's hybrid professional