As more and more companies welcome back their staff to the office, remain remote, or both, the need for functional, flexible hybrid work models is increasing. By working with a skilled technology partner, businesses can strategize on how to best right-size their workplace and understand which strategies ensure they are able to support their employees—from the corner office to the home office.
Below, we have highlighted some of the most utilized deployed tools from over the past 18 months that will help streamline in-person and remote collaboration to create an optimal hybrid workplace for your business.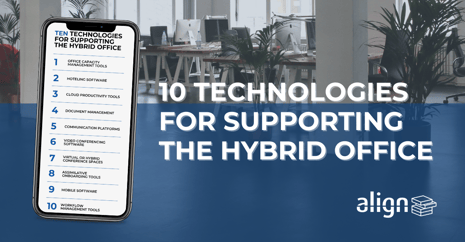 Technologies for the Hybrid Office
1) Office capacity management tools
These tools can assist in tracking employees as they enter and leave the office space—including registration tools, occupancy sensors, sign-in check points, etc. Not only can these tools help support a healthy workplace, they can assist with any capacity restriction needs if your office has downsized or consolidated to only fit a certain number of in-person professionals per day.
2) Hoteling software
Instead of abiding by "first come, first served," hoteling software allows professionals to reserve desks, workstations, or conference rooms ahead of time. This technology has been critical in managing the workplace during and post-pandemic, and continues to evolve.
3) Cloud productivity tools
Cloud productivity tools are more essential than ever. Truly designed for a decentralized workforce, they have facilitated the transition between the workplace and the home with both security and efficiency. Employees can log in from anywhere and begin their work where they left off, all while maintaining overall enterprise access and security.
4) Document management
Supporting remote workers comes requires applications that store and share electronic files safely and quickly. File-sharing tools allow easy transfers when it comes to documents, videos, software and more. This technology can also be customized to allow you to control file access down to who can see, edit and delete files within an organization.
5) Communication platforms
When it comes to a hybrid office, streamlined communication is key. Messaging tech was one of the most readily absorbed and utilized tools when the pandemic first struck. Platforms like Slack, Microsoft Teams, Discord have also made improvements over the past year to better integrate with other tools for better workflow management.
6) Video conferencing software
Part of a larger group of collaboration technologies, video conferencing is important to upholding the flexibility and connection of a hybrid workforce. These tools have become more sophisticated over the past year; for example, some platforms have incorporated rich features like transcriptions, whiteboard space, and automatic captions while integrating with chat and data management.
7) Virtual or Hybrid Conference Spaces
These spaces were created in direct response to the pandemic and have helped reimagine large convention centers and gatherings on a virtual level. Other organizations have leaned more into building-out their current conference spaces to more effectively facilitate meetings between in-person and remote workers, which includes better AV tech, conferencing tools, and more.
8) Assimilative onboarding tools
New employees may begin (and stay) 100% remote. As such, organizations need to reconsider their approach to onboarding. This could mean a flexible, secure cloud-based onboarding application. These tools are important to help introduce new professionals to their teams and ease them into the company to ensure they feel they are a part of the culture right away.
9) Mobile software
Unsurprising to everyone, mobile use continues it exponential growth and integration into enterprise systems and becoming more prevalent across many industries. To accommodate this growing need, mobile software management can help increase connectivity, productivity and enable access to network files securely and risk free.
10) Workflow management tools
Sorting and tracking tasks in a hybrid workplace is essential to maintain organization and better productivity. Tools for agile programming teams not only help track ongoing projects but can help organize these tasks into tickets. While various communication tools such as Microsoft offer these features, organizations can choose from other, more robust platforms as well in order to streamline workflows by as required.
Why Choose Align as Your Technology Partner
Align is the premier global provider of technology infrastructure solutions. Our Workplace Technology professionals have worked closely with our clients over the past 18 months to help them right-size their office and adapt seamlessly to evolving workplace changes.
Learn more about how we can help build a workplace fit for today's hybrid professional.