Regional Bank Transforms into the Cloud
ALIGN'S MANAGED AZURE SOLUTION CUTS COSTS, REDUCES RISK AND PROVIDES A PLATFORM FOR GROWTH
The Overview
A regional bank had a mandate to streamline operations, enhance security, achieve technology stability, and improve client and employee satisfaction. In an effort to fulfill this requirement, the executive team engaged Align to lead this IT transformation program.

To initiate the program, our team worked with key stakeholders to understand the challenges impacting their business and operations. The areas we addressed were:
| | | | |
| --- | --- | --- | --- |
| Growth & Scalability | Security | Connectivity & Stability | Audit & Compliance |
| Data Privacy | Legacy Applications | Regulatory Requirements | Business Continuity |
Other organizational challenges included managing hundreds of users across dozens of branches, legacy data centers (primary and disaster recovery), disparate technology suppliers, and overstaffed IT support team. Add to that, a lack of IT transparency, budget controls and documentation throughout the organization – the bank was exposed to risk with a high TCO.
In developing the right solutions, Align needed to assess the following areas:
| | |
| --- | --- |
| Application and Infrastructure Discovery | End-User & Branch Technology |
| Application Inventory & Dependency Mapping | Cybersecurity and Compliance |
| Network Topology and Connectivity | Data Governance, Integrity and Record Retention |
| Data Center and Core Bank Infrastructure | |
| Network Access Control, Backup and Restore | Transition to Managed Service Model |
The Solution - A secure usage-based managed cloud platform

Technology transformations require precise planning, strict oversight, and a highly experienced project management team to deliver results. Align took a phased approach to ensure that all the required elements were captured from the start. We used our proven methodology with key senior stakeholders to ensure all the necessary options and decisions were communicated, vetted and agreed upon quickly.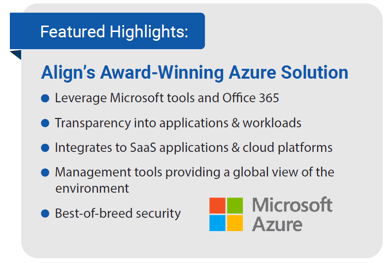 We structured the program into four distinct phases. The first phase addressed the current critical infrastructure issues – which immediately improved the current risk profile of the bank.

At the same time, our support staff was familiarizing themselves with the environment and improving the end-user experience. Concurrently, our audit and engineering teams were discovering and planning the future state program to enhance and truly transform the environment to the Managed Cloud Platform.
Align's Four Phased Proven Methodology
1. Current State Assessment

Application inventory & dependency mapping
Network connectivity Data centers
Branch offices
3rd-party vendors
End-user technology

2. On-Site Support Staff Outsource

HQ & branch support
Data center support
End-user technology enhancements
Day-to-day support of banking systems, network & connectivity

3. Technology Transformation

Planning & testing
Application migration, consolidation & cut-over
Decommission of legacy technologies
Documentation & transition to managed services provider

4. Managed Cloud Services

Device & network monitoring
24 ×7×365 support
Proactive cybersecurity program
Patching, back-up and incident management
Digitized business processes
Ability to do Multi-Cloud
The Results
Our transformation program reduced the bank's annual IT spend by 50% - but that was just the start. We further improved their bottom line by increasing operational efficiency and reducing business risk through documenting and standardizing the environment and implementing controls that did not exist. Thanks to this transformation, the bank achieved stability, ensured efficiency, and met compliance standards including data protection, privacy laws and other regulations.

The bank is now experiencing positive growth and is currently in acquisition mode.
Benefits of IT with Align's Managed Services
Cost Reduction

Predictable annual Opex IT spend

Reduced in-house resources including technology and admin staff

Scalable technology services as needed

End-User Experience

24x7x365 uptime

Increased collaboration

Access from anywhere

Enhanced security platform

Growth & Operational Efficiency

Advanced data loss prevention

Automated software updates

High availability with data protection and recovery

Scalable growth plan