Align Completes Data Center Consolidation and Migration of Legacy Network to Meet Lease Deadline
The Overview
NatWest's lease on their Trumbull Data Center was set to expire in March 2022. They were looking to
consolidate their 11,000 sq. ft. suite into another existing 2,600 sq. ft. suite on the first floor of the building and move a Business Continuity Planning (BCP) space to a nearby facility.
The move would require the consolidation of 1,100 assets, including moving the 1,000 desk BCP space to a smaller 700 desk facility with an extremely tight turnaround. NatWest also chose to migrate their active network, which was over 14 years old.
Due to the scope and strict timeline of the project, NatWest required data center migration and
consolidation expertise, design & build experience, and robust project management skills. As a result, they engaged Align to lead the efforts.
The Solution

The project was intended to kick off nine months before the lease deadline and conclude in December to allow for some time before the end of the lease term. However, there were multiple challenges as a result of the amount of legacy network equipment and from moving an active network between floors. To address these properly, the scope was adjusted to last through March.
Align leveraged multiple lines of business to ensure all aspects of the project were addressed and established a comprehensive team to manage the following solutions: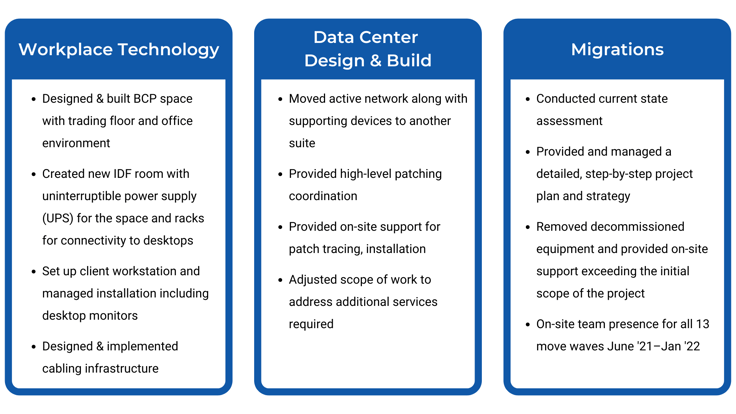 Once the teams were built out and all project phases outlined, Align began their proven migration
process, which determined the end state of all assets prior to consolidation and secured all relevant
workloads and applications for the network migration.

Expedited Consolidation & Migration Timeline

Key Project Challenges
Legacy network with end-of-life or older equipment
Lack of documentation and visibility that caused move wave lags
Aging equipment required regular on-site support

Moving an active network between floors called for extensive patching
Resource fluctuation due to COVID surge and quarantine requirements
Inconsistency in number of devices per move wave due to hardware issues
The Results
The team completed the consolidation and migration efforts within the nine-month timeframe despite numerous challenges.
The core challenges of the project included moving a 14-year-old active network between floors which required dealing with equipment that was end-of-life or older, as well as managing extremely fast turnarounds for move waves that were sometimes as short as four days. NatWest also had significant gaps in their documentation and a lack of visibility into details such as their carrier information, which made physical information gathering more time consuming and resulted in bottlenecks.
The Align team met the lease term and delivered the full migration in nine months, which included moving 179 devices in 13 move waves and completing 2,400 patches for approximately 1,180 point-to- point device connections. The team was able to complete the entire effort on time without any major network outages or impact on the business.
To learn more about how Align can help with any data center or migration efforts, visit our Migration solutions webpage, available here, or schedule a call with our team today.