Align Drives IT Asset Consolidation Efforts Across Six
Data Centers in Nation-Wide Migration
The Overview
Centene, a multi-national healthcare enterprise, was looking to migrate equipment between various
data centers that were located across the country. They partnered with Align to drive the migration of
approximately 1,300 devices to and from six separate sites.
To help Centene reduce operating costs, Align also managed the decommissioning of three primary facilities in Florida, Pennsylvania and New Jersey. Align created a simplistic system allocating device target dispositions and tracking their relocations to Missouri, New York and California.
The Solution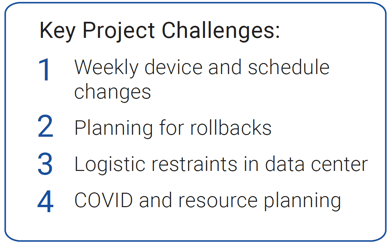 Align leveraged their proven migration process, which started with a physical current state assessment and inventory of all devices. Through this, Align determined the future disposition of each device. They were then placed into one of the following categories: Migrate, Repurpose or Decommission. This process enabled the team to develop a comprehensive migration plan and schedule.
To stay on top of the project changes and mitigate any potential risk throughout the migration, the Align team visited the sites in the days leading up to the move to revalidate the devices in scope. This also reduced risk and ensured the devices were properly labeled and targeted to reach their correct location.
Align's Proven Migration Framework:

The Results
In less than six months, Align designed, planned and delivered a migration and relocation program that allowed Centene to avoid significant extension fees and reduce their future operational run rate, all while eliminating risks to their technology operations.

The team's proven process and strong attention to detail throughout the assessment led to the successful migration of 1,300 devices across the country. Align's Migration team also performed continual site visits that facilitated the project's large consolidation efforts. Despite key challenges such as schedule delays, move wave postponements, as well as frequent adjustments to the devices in scope, Align completed the project on time and on budget.
To learn more about how Align can help with any data center or migration efforts, visit our Migration solutions webpage, available here, or schedule a call with our team today.