Align Provides a Pre-Built Cabinet Deployment Process that Increases Quality, Saves Money and Time
The Overview
A cloud computing service provider with a global footprint hired Align to standardize a cabinet build across their data centers to increase capacity while decreasing time to market. The design and build configurations were impacted by the client's international presence with power and cable-type requirements varying from country to country.

In Align's warehouse, the team managed the build of 4 variations of cabinet types for the client's technology platforms. Align's services included procurement, managing both global supply logistics and the installation of the UPS, Cisco network equipment, patch fields and cables. This coordinated program improved the quality of the installation, increased savings and reduced the time of the cabinet deployment to market.
The Solution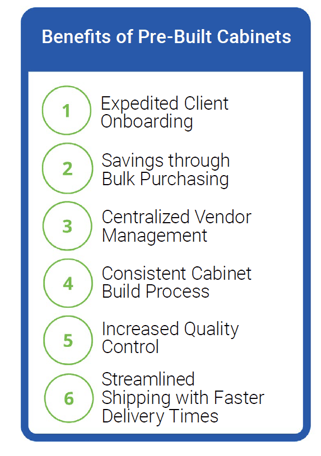 An effort of this size required a comprehensive project plan to manage specific requirements, track incoming orders, the build status of each cabinet, and scheduled delivery to each site. Align's operations manager maintained the plans and relayed real-time updates to the client throughout the build cycle to ensure the critical schedule was maintained. Align also reduced the overall cost by purchasing equipment in bulk and leveraged Align's critical build facility which helped to increase the quality control of the cabinets and compress the overall timeline.
The were four main project phases:
1) Receive Orders: Documented locations and schedule for cabinet materials and maintained inventory management system for concurrent projects.
2) Cabinet Build: Based on the client's needs, Align developed 4 standard configurations to meet the various requirements from each country.
3) Quality Control: Conducted final audit across cabinet
build to ensure quality standards and performance.
4) Cabinet Delivery: Managed all cabinet transport and final delivery, and performed on-site quality control as needed.
The Results
Align managed the delivery of 1000+ pre-built cabinets through our deployment process. In
working with the client on this collaborative solution, Align decreased on-site work, reduced the project timeline, and fast-tracked bringing the customer's network and servers online. Align was able to increase time to market by 35% and save the client $1.5M by building the cabinets on-site.
Align continues to work with the client today to provide a full range of professional services across multiple lines of business, including Data Center, Migrations and CAD support.
To learn more about how Align can help with any data center efforts, visit our Data Center Solutions webpage, available here, or schedule a call with our team today.