Align Expedites Verizon's Data Center Migration to Meet Their Looming Lease Termination
The Overview
Verizon sold their data center in Waltham, MA, which required them to migrate over 1,200 devices to their new primary data center located in Boston within an expedited timeline of 4–5 months due to pending lease termination. The size, scope and strict timeline of the project required expertise focused on migration planning and project management.
Having successfully completed a similar move for a Verizon data center in 2019, Align was best suited
to take over the migration efforts and was awarded the project.
The Solution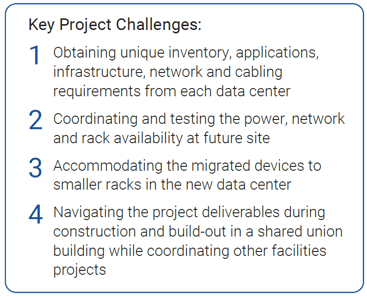 The source facility consisted of twelve data centers that were each dedicated critical testing labs for various 5G shield rooms and broadcasting environments. As a result, Align worked with the individual owners of each data center to obtain accurate device inventory status and validation, patch cable requirements and scheduling, and migration planning.
Once this information was collected, Align and Verizon were able to establish project governance guidelines and organize communication schedules within the master migration plan.


The Results
Align successfully moved 1,134 devices out of the Waltham facility and into the new data center in 11 migration waves over a compressed four-month timeline. This included 250 network devices, 300 servers, and 650 hardware assets—from laptops to routers, sub-racks, disk arrays, appliances, various 5G radios, 5G antennas, and more.

The old facility was decommissioned in record time with minimal downtime and risk to the business. Verizon is now operating at full capacity in their new Boston data center facility.
To learn more about how Align can help with any data center or migration efforts, visit our Migration solutions webpage, available here, or schedule a call with our team today.