$3M Savings from Data Center Consolidation Program Post-Acquisition
The Overview
Cigna, a multinational managed healthcare and insurance company, sought to initiate a data center consolidation effort to reduce their corporate real estate footprint and OpEx costs after acquiring HealthSpring. This required closing two newly acquired data centers to avoid colocation costs, which would allow Cigna to leverage significant savings in both technology and resourcing costs for years to come.
Cigna looked to Align to develop the overall strategy and data center consolidation program, which including, the following:
Strategy Development & Project Management

Workload Migration

Data Center Exits & Closures

Decommission of Legacy IT




The Solution

Align's experts planned and delivered a full migration and shutdown of the HealthSpring data centers, including application mapping, seed equipment installation, workload migration and proper decommission of all remaining technology infrastructure.
The Align team implemented the following approach: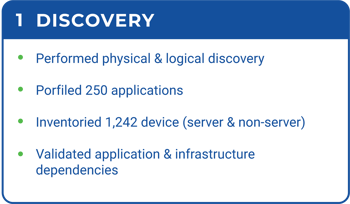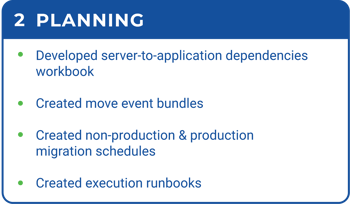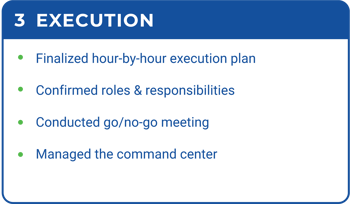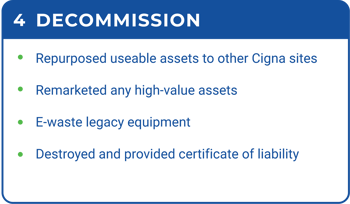 The Results
Align delivered the HealthSpring consolidation program on time and under budget, helping save the client over $3 million per annum by eliminating the associated data center costs. Align led twenty-five total migration events over the five-month project duration, which included the following:
1003 VMS Migrated

246 Application Services Migrated

828 VMS Decommissioned

1263 Physicals Decommissioned

558 Devices Moved & Repurposed

This data center consolidation program reduced the client's overall data center footprint, technology and resource costs while drastically increasing the technical capacity and performance of all migrated legacy platforms.
To learn more about how Align can help with any data center or migration efforts visit our Migration solutions webpage, available here or schedule a call with our team today.