NEW YORK, NY – January 12, 2017 – Align, the premier global provider of IT infrastructure advisory and managed services, today announced the appointment of Vinod Paul. Vinod, who joins Align as Chief Operating Officer, is a well-known technology expert in the financial services sector, with a significant focus in the investment management industry.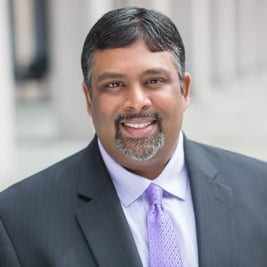 "Vinod represents the strong caliber of talent that differentiates our firm," said Jim Dooling, CEO and President of Align. "Vinod's career speaks for itself. His unrivaled financial services experience and technology expertise builds on our 30 years of relationship-based services to our global client base. He is an exemplary professional with a rare combination of operational, entrepreneurial and commercial sense."
Vinod brings over twenty years of in-depth financial services and technology experience. Most recently, he lead all of Eze Castle Integration's (ECI) customer-facing engagements including service delivery and business development on a global basis. Over his 13 years as Managing Director, Vinod helped establish ECI as a premier Managed Service provider in the financial services space. His experience also includes director of technical services for Martin Progressive where he supervised an engineering staff supporting 6000 customers, as well as a management and engineering consultant to IBM Global Services, Lucent Technologies, Tyco Submarine Systems and Penguin Putnam Publishing.
"Align's unique ability to provide advisory, professional and managed services, affords me the exciting opportunity to be a part of delivering comprehensive client-focused solutions, from designing infrastructure to optimizing work-flow, and providing high-value advisory and risk management services as technology continues to evolve at light speed," said Vinod. "I'm looking forward to being an innovator for our clients so they can use their technology as strategically as possible in this dynamic technology and regulatory environment."
Vinod serves on the global board of directors for Help for Children/Hedge Funds Care, a global nonprofit dedicated to preventing and treating child abuse. He attended Rutgers University and graduated with a Bachelor of Sciences in Biological Sciences.


About Align
Align is a premier global provider of technology infrastructure solutions. For over 30 years, leading firms worldwide have relied on Align to guide them through IT challenges, delivering complete, secure solutions for business change and growth. Align is headquartered in New York City and has offices in London, Chicago, San Francisco, Arizona, New Jersey, Texas and Virginia. Learn more at www.align.com and www.aligncybersecurity.com.