The list recognizes the companies & executives from the 2022 MSP 501 list who truly stood out and moved the needle this year.
Vinod Paul has been recognized by Channel Futures on the Most Influential MSPs of 2022 list. The list recognizes these individuals as leaders who demonstrated steady leadership and truly moved the needle this year.
The MSP channel leaders were selected based on special award nominees and winners as well as the broader swath of 501ers. This award aims to highlight the extraordinary individuals who set their companies apart from the rest.
"I am incredibly honored to be recognized amongst other industry leaders on this prestigious list by Channel Futures," says Vinod Paul, Chief Operating Officer of Align. "At Align, we are paving the way for the new direction of Managed Service Providers in the financial services industry. Our award-winning solution, hosted in the Microsoft public cloud, meets and exceeds the incredibly rigorous regulatory and compliance standards set forth by the SEC while providing unmatched cybersecurity technologies and advisory services. As a member of this prestigious list of Channel Leaders, I am proud to guide a team of incredibly talented professionals towards new horizons while we redefine what it means to be an MSP."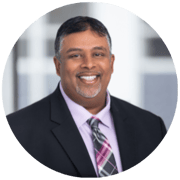 Vinod Paul brings over 20 years of in-depth financial services and technology experience to his role as Align's Chief Operating Officer, allowing him the unique perspective required to successfully establish Align as a premier Managed Service provider in the financial services space. Through the strategic development of Align's Managed Services offering, Vinod has also played a major role in the development and oversight of Align Cybersecurity, the company's comprehensive cybersecurity risk management solution. Vinod helped launch the cybersecurity peer group in April 2022 for Channel Futures.
Vinod's leadership also extends outside of Align in the form of a role on the global board of directors for Help for Children/Hedge Funds Care, a worldwide nonprofit dedicated to supporting efforts to prevent and treat child abuse. As an accomplished thought leader, he is also a member of the Forbes Technology Council and has been featured in many major industry publications.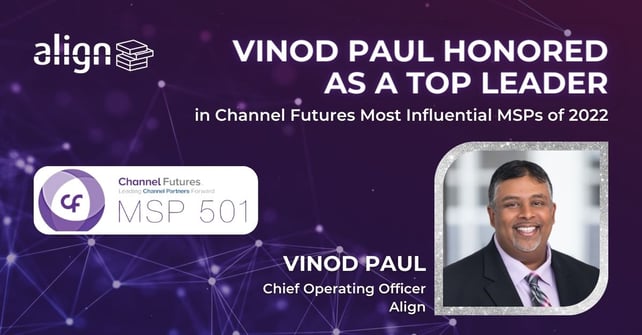 The list compiled by Channel Futures editors highlights the businesses and individuals that have proven excellence in business efficiency and agility in the face of an evolving market. They have led their organizations through one of the most tumultuous periods of time in recent history and as such have earned this recognition. As the nature of the channel changes, partners are developing deep ties with numerous suppliers in each technology solution segment they support. The channel leaders lists will identify the executives with whom they should establish strong relationships going forward.
About Align
Align is a premier global provider of technology infrastructure solutions. For over 36 years, leading firms worldwide have relied on Align to guide them through IT challenges, delivering complete, secure solutions for business change and growth. Align is headquartered in New York City and has offices in London, Chicago, San Francisco, Arizona, New Jersey, Texas and Virginia. Learn more at www.align.com and www.aligncybersecurity.com and follow @AlignITAdvisor. Check out our blog here.
About Channel Futures
Channel Futures is a media and events destination for the information and communication technologies (ICT) channel community. We provide information, perspective and connection for the entire channel ecosystem, including solution providers (SPs), managed service providers (MSPs), managed security service providers (MSSPs), cloud service providers (CSPs), value-added resellers (VARs) and distributors, technology solutions brokerages, subagents and agents, as well as leading technology vendor partners and communication providers.
Our properties include many awards programs such as the Channel Futures MSP 501, a list of the most influential and fastest-growing providers of managed services in the technology industry; Channel Partners events, which delivers unparalleled in-person events including Channel Partners Conference & Expo, Channel Partners Leadership Summit, Women's Leadership Summit, the MSP Summit and Channel Partners Europe; and a DEI Community Group, our initiative to educate, support and promote diversity, equity and inclusion (DE&I) in the ICT channel industry. Channel Futures is where the world meets the channel; we are leading Channel Partners forward. More information is available at channelfutures.com.
Channel Futures is part of Informa Tech, a market-leading B2B information provider with depth and specialization in ICT sector. Every year, we welcome 14,000+ subscribers to our research, more than 4 million unique monthly visitors to our digital communities, 18,200+ students to our training programs and 225,000 delegates to our events.