NEW YORK, NY – June 12, 2019 – Align, the premier global provider of technology infrastructure solutions and managed IT services, today announced the appointment of Vernon Bratton to its team. Bratton joins Align as senior business development associate.
Bratton brings twelve years of sales experience, with five years in the alternative investment industry. Prior to Align, he most recently served as director of business development of Context Summits and Context Family Network, the preeminent producer of events for the alternative asset management industry. He has a strong track record of establishing meaningful and strategic relationships with investment managers, advisors and services providers, as well as institutional investors.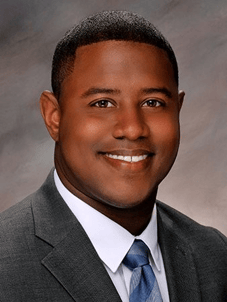 "Vernon's unparalleled knowledge uniquely positions him to drive and enhance strategic business deals, as well as advance key partnerships for Align," said Jim Dooling, CEO and president of Align. "He is an excellent addition to our organization, and I am confident he will play an instrumental role in accelerating growth during such a pivotal time for our team and the industry."

Bratton's primary role will be to assist Align in its continued success as a leading IT and cybersecurity service provider by promoting its two core offerings in the investment management space: managed IT services and cybersecurity advisory services. In addition to creating new partnerships, strategic relationships and client engagements, he will play a meaningful role in building out the Align Cloud-Starter Bundle, the company's joint IT and cybersecurity offering designed specifically for start-ups and emerging managers.

"Vernon will add yet another layer to the growing team of industry veterans at Align," added Vinod Paul, chief operating officer of Align. "His momentum is undeniable, and we are excited for him to help guide the company during our next growth phase."

"I am thrilled to be joining the talented team at Align, a company who is at the forefront of innovating managed services and comprehensive cybersecurity for investment firms," said Bratton. "I look forward to tapping into my deep experience and expertise to further expand Align's market share and ensure continuous and exceptional customer service."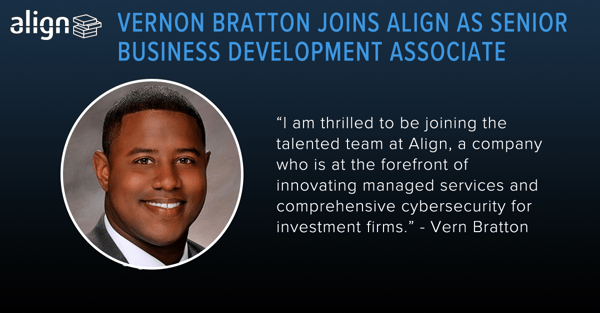 About Align
Align is a premier global provider of technology infrastructure solutions. For over 32 years, leading firms worldwide have relied on Align to guide them through IT challenges, delivering complete, secure solutions for business change and growth. Align is headquartered in New York City and has offices in London, Chicago, San Francisco, Arizona, New Jersey, Texas and Virginia. Learn more at www.align.com and www.aligncybersecurity.com, and follow @AlignITAdvisor.
Press Contact Information
Align
Katie Sloane
+1 212-844-4078
ksloane@align.com