NEW YORK, NY – February 22, 2019 – Align, the premier global provider of IT infrastructure and workplace technology services, today announced the appointment of Robert Caputo to its team. Mr. Caputo joins Align as Senior Program Manager for its Workplace Technology group.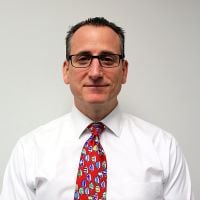 Robert Caputo is a well-known program manager in the workplace industry and will lead large programs for Align's strategic clients. Mr. Caputo was previously a Principal at CS Technology, where he was responsible for the firm's strategy practice and large workplace programs. Rob has over 25 years of consulting experience – and has lead teams through the entirety of project lifecycles from business case, to visioning and design, through construction and deployment of technology. Mr. Caputo's prior roles include leadership positions in network consulting firms and as Principal Engineer responsible for the development of a core MPLS switch.
Throughout his career, Mr. Caputo has earned several industry certifications such as Cisco's CCIE, published an industry book on VoIP and networking technologies, and earned a US patent for Internet technologies. Mr. Caputo holds a bachelor's degree in Physics and Computer Science from the University at Albany.
"Rob is a dynamic hire, adding depth and breadth to Align's Work Place Technology solutions," said Jim Dooling, CEO and President of Align. "His expertise will add value to our clients to enrich their workplace goals, especially with the rapid advance in the convergence of front-end technologies. Rob understands this ecosystem and the careful integration required for clients to introduce enhanced collaboration tools, promote their corporate branding and culture, drive employee engagement, and leverage emerging technologies that enhance user experience and streamline building management. His expertise will further enhance our company's vision and position Align at the forefront of workplace technology program management," continued Mr. Dooling.
"The addition of Rob into our Workplace Technology solution compliments our current investments and world-class talent," stated Jim Johnson, Director of IT at Align. "We are so happy Rob has decided to help us lead Align's Workplace Technology solution to higher levels," added Mr. Johnson.
"I am thrilled to join Align's strong, client-focused delivery team. Align's careful, consistent, and balanced approach to integrating technology with both business process and physical infrastructure is a powerful foundation for meeting the demands of the next generation of workplace programs," said Mr. Caputo. "I'm excited to be a part of a team that is committed to advancing our clients' goals and leading the next wave of digital workplace technology integration," stated Mr. Caputo.
About Align
Align is the global provider of technology infrastructure solutions. For over 30 years, leading firms worldwide have relied on Align to guide them through IT challenges, delivering complete, secure solutions for business change and growth. Align is headquartered in New York City and has offices in London, Chicago, San Francisco, Arizona, New Jersey, Texas and Virginia. Learn more at www.align.com and www.align.com/professional-services/workplace-technology. Check out our blog here.