Align earns the honor of Best Cybersecurity Provider
for the second consecutive year
NEW YORK, NY – October 26, 2022 – Align, the premier global provider of technology infrastructure solutions and Managed IT Services, announces that it has been voted as "Best Cybersecurity Provider" in the 2022 Hedgeweek US Awards. This recognition is based on an online peer-review survey in which investors, hedge fund managers and service providers are invited to nominate a "best-in-class" in a variety of categories. This is the second consecutive year that Align has been voted the Best Cybersecurity Provider by Hedgeweek, and it is clear to see why. Since the onset of the pandemic and associated shifts in workplace environments, Align and its dedicated Cybersecurity Advisory team have ensured that businesses are able to continue operating securely despite a distributed workforce.
"One of the main pillars of Align Managed Services is our Cybersecurity offering," says John Araneo, Managing Director of Cybersecurity and Align General Counsel. "We make it a top priority to remain agile by constantly improving to accommodate the regularly evolving regulatory requirements our clients face. Our programs are built with investment advisers in mind, which makes staying on top of these shifts is imperative."
As cybersecurity controls continue to evolve and adapt to everchanging threat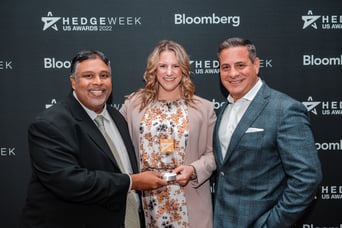 vectors, regulatory regimes, technologies, prevailing security standards and more, it has never been more critical to approach cybersecurity from the ground up by focusing and investing more in the underlying IT infrastructure.
"We are honored to be recognized once again for our industry-leading cybersecurity services," says Vinod Paul, Chief Operating Officer of Align. "The decision to offer Cybersecurity Advisory Services packaged with our Managed Services solution allows us to provide clients with a comprehensive solution that is cost effective and easily scalable. This, paired with our focus on the alternative investment industry, provides our clients with services that not only meet, but oftentimes exceed, all of their technological, security, governance, and compliance requirements."
Align Cybersecurity™, Align's leading-edge Cybersecurity Advisory Practice led by a multi-disciplinary team of industry subject matter experts, provides appropriately scaled cybersecurity solutions that address current regulatory and compliance requirements and meet prevailing operational due diligence standards and investor expectations.
This marks Align's eighth Hedgeweek award and its second consecutive cybersecurity recognition. To view our other awards, click here.
About Align
Align is a premier global provider of technology infrastructure solutions. For over 36 years, leading firms worldwide have relied on Align to guide them through IT challenges, delivering complete, secure solutions for business change and growth. Align is headquartered in New York City and has offices in London, Chicago, San Francisco, Arizona, New Jersey, Texas and Virginia. Learn more at www.align.com and www.aligncybersecurity.com and follow @AlignITAdvisor. Check out our blog here.