New York, NY – June 16, 2021 – Align, the premier global provider of infrastructure technology solutions, announced today that it has been named the winner for "Best Cyber-Security Solution" in the 2021 FTF News Technology Innovation Awards. These awards were decided by an industry-wide vote.
Presented by the Financial Technologies Forum and FTF News, the FTF New Technology Innovation Awards celebrates and recognizes the professionals, financial technology vendors, service providers, industry bodies and regulators that have made significant strides and noteworthy achievements in operational excellence during 2020.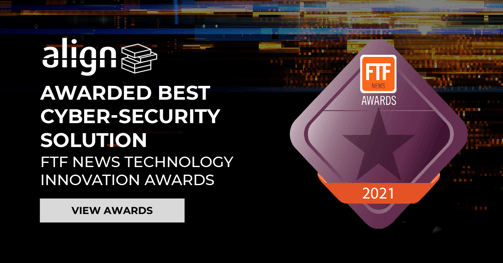 Home PCs, servers and networks endured an increase in cyber-attacks as Ops staffs at financial services firms worked remote for the majority of the year due to the pandemic, relying more heavily on cloud-based systems. Align was awarded Best Cyber-Security Solution because of the teams dedication to providing effective protection against malware, ransomware, data hacks and new security challenges.
Align's leading-edge cloud services and robust Cyber-Security Advisory Practice, Align Cybersecurity™, is designed by subject matter experts with Align's clients in mind and creates customizable solutions that mitigate risk and compliance burdens while empowering secure, agile, mission-critical services.
"Align Cybersecurity has long been credited as the first-mover in terms of treating Cybersecurity compliance as a multi-factorial issue that requires a multi-disciplinary approach, and our team's ability to resolve our clients' needs in any environment, whether centralized, distributed, nimble or enterprise, in a cohesive and responsive manner has kept us at the forefront of Cybersecurity compliance," said John Araneo, Managing Director and General Counsel of Align. "Another win for this stellar team!"

Vinod Paul, Chief Operating Officer at Align, stated, "We believe we've developed the new prototype for a MSP/MSSP firm by curating a dual offering that delivers all the wide-scale benefits of a robust, cutting edge public cloud infrastructure that is customized, designed and configured to provide a comprehensive, bespoke solution addressing all of the technological, security, governance and compliance needs of our clients simultaneously."
You can view all winners here.

About Align
Align is a premier global provider of infrastructure technology solutions. For over 30 years, leading firms worldwide have relied on Align to guide them through IT challenges, delivering complete, secure solutions for business change and growth. Align is headquartered in New York City and has offices in London, Chicago, San Francisco, Arizona, New Jersey, Texas and Virginia. Learn more at www.align.com and www.aligncybersecurity.com.
---
Press Contact Information
Align
Ashley Holbrook
+1 212-546-6159
aholbrook@align.com