Align Receives Prestigious Vanguard Award from Channel Futures
The honor is awarded to a company that is at the forefront of technology and service innovation in the managed services and technology channel
New York, NY — October 5, 2022 – Align, the premier global provider of technology infrastructure solutions, announces today that it has been awarded the prestigious Vanguard Award by Channel Futures. The award highlights a single company that is constantly innovating and operating on the cutting edge of technology within the industry, offering a truly competitive product and/or service to clients. The honor was bestowed at the 2022 Channel Futures MSP Summit in Orlando in September.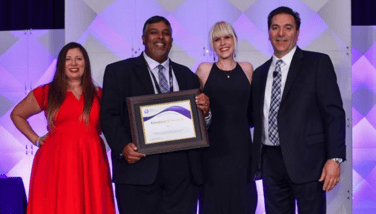 Align's leadership team had anticipated the evolving needs of their client base, alongside the changing regulatory landscape and increasing distributed workforces within the financial industry. Over 6 years ago, they decided to specialize in the alternative financial services vertical and leverage the Microsoft Public Cloud as the foundation of its platform services.
"Align is constantly looking to innovate, not only with our solutions and technology, but most importantly with the evolving needs of our clients' workloads and processes," says Vinod Paul, Chief Operating Officer. "That's why we configured our Managed Services Platform to meet client need versus offering completely custom solutions. By configuring instead of customizing, we have been able to scale to accommodate thousands of users on our platform which has enabled us to achieve a thorough solution that exceeds our clients' requirements."
The Align Managed Services Platform was designed and built with a hybrid workplace in mind, allowing Align to meet the needs of today's growing decentralized workforce. This has not only maintained Align's high client retention but has allowed for scalability of the solution to service clients throughout the global workforce including 23 states and 21 countries.
To learn more about Align Managed Services and the Align IT Suite, go to www.align.com/managed-services.
About Align
Align is a premier global provider of technology infrastructure solutions. For over 35 years, leading firms worldwide have relied on Align to guide them through IT challenges, delivering complete, secure solutions for business change and growth. Align is headquartered in Texas and has offices in New York, London, Chicago, San Francisco, Arizona, New Jersey, and Virginia. Learn more at www.align.com.