Align Recognized on the 2022 CRN® Fast Growth 150 List
CRN® Pays Tribute to Leading IT Solution Providers for Exceptional Sales Performance
New York, NY — August 8, 2022 – Align, the premier global provider of technology infrastructure solutions, announces today that it has earned a prestigious spot on the 2022 Fast Growth 150 list, published annually by CRN®, a brand of The Channel Company®. The CRN Fast Growth 150 list recognizes the fastest-growing North American IT solution providers and technology integrators for significant sales growth—driven by forward-thinking business strategy, strong technology know-how and services prowess—demonstrated over the previous three years.
These last three years have seen a number of challenges and opportunities in the IT space. The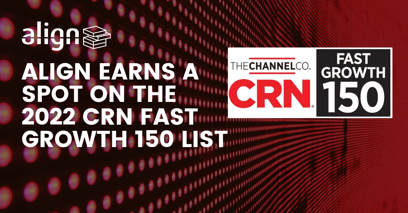 onset of the COVID-19 pandemic necessitated a rapid shift from traditional office work to work from home policies, which brought about its fair share of technological challenges. CRN's Fast Growth 150 list acknowledges companies that have consistently adapted to stay ahead of the rapidly evolving IT industry and demonstrated an ongoing dedication toward success and innovation.
"We are honored to have received a spot on the 2022 Fast Growth 150 list," says Vinod Paul, Chief Operating Officer of Align. "The last three years have seen an incredible amount of growth for Align. As the nature of the workplace has changed, we have adapted proactively to provide solutions for everything from downsizing offices to enabling secure network connections for the evolving hybrid workforce. We strive to continue providing comprehensive solutions for the connected enterprise."
"Despite the near-constant disruptions and unforeseen challenges today's IT companies face, they must still be ready to adapt and change at a moment's notice. With the CRN 2022 Fast Growth 150 list, we honor those IT solution providers that have managed to thrive in an industry where stability is often a luxury," said Blaine Raddon, CEO of The Channel Company. "The companies that earned spots on this year's list represent the very best in business acumen and strategy, inspiring fellow industry members and proving that with perseverance, meaningful growth is attainable in even the most chaotic business climates. On behalf of CRN and The Channel Company, I wish a heartfelt congratulations and continued success to all companies featured on the 2022 Fast Growth 150 list."
A sampling of the 2022 Fast Growth 150 list will be featured in the August issue of CRN Magazine. You can view the complete list online at www.crn.com/fastgrowth150.
About Align
Align is a premier global provider of technology infrastructure solutions. For over 30 years, leading firms worldwide have relied on Align to guide them through IT challenges, delivering complete, secure solutions for business change and growth. Align is headquartered in New York City and has offices in London, Chicago, San Francisco, Arizona, New Jersey, Texas and Virginia. Learn more at www.align.com
About The Channel Company
The Channel Company enables breakthrough IT channel performance with our dominant media, engaging events, expert consulting and education, and innovative marketing services and platforms. As the channel catalyst, we connect and empower technology suppliers, solution providers, and end-users. Backed by more than 30 years of unequalled channel experience, we draw from our deep knowledge to envision innovative new solutions for ever-evolving challenges in the technology marketplace. www.thechannelcompany.com
Follow The Channel Company: Twitter, LinkedIn, and Facebook.
© 2022 The Channel Company, LLC. CRN is a registered trademark of The Channel Company, LLC. All rights reserved.
The Channel Company Contact:
Jennifer Hogan
The Channel Company
jhogan@thechannelcompany.com