Company Recognized for Excellence in Managed IT Services and Security Solutions
NEW YORK, NY – February 21, 2018 – Align, the premier global provider of technology infrastructure solutions, today announced it has been named to CRN's 2018 Managed Service Provider (MSP) 500 list in the Security 100 category. The MSP 500 annually recognizes North American solution providers with cutting-edge approaches to delivering managed services.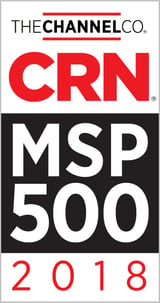 Align's inclusion among industry leaders reflects an emphasis on outstanding quality, its sophisticated suite of services and a commitment to innovation. The company has spent more than three decades mastering technology advancements to provide best-in-class solutions for Managed IT Services across cloud services, colocation, cybersecurity, end-user IT support and scalable resourcing. Align Cybersecurity™, the first-ever comprehensive cybersecurity risk management solution, was developed to address the increasing demand for sophisticated, real-time risk solutions in conjunction with security training and regulatory compliance services.

"We are honored to be recognized in this esteemed list for our compelling managed IT services and complete security solutions," said Vinod Paul, COO of Align. "Remaining at the forefront in today's ever-evolving market requires forward thinking, a united vision and true passion injected into advancing our IT stack to meet each client's unique business needs. This recognition is evidence of our commitment to creating disruptive solutions focused on propelling our customers' success."

"Managed service providers have become integral to the success of businesses everywhere, both large and small," said Bob Skelley, CEO of The Channel Company. "Capable MSPs enable companies to take their cloud computing to the next level, streamline spending, effectively allocate limited resources and navigate the vast field of available technologies. The companies on CRN's 2018 MSP 500 list stand out for their innovative services, excellence in adapting to customers' changing needs and demonstrated ability to help businesses get the most out of their IT investments."

CRN's MSP 500 list shines a light on the most progressive and innovative managed service providers in the field today. The list is divided into three categories: the MSP Pioneer 250, recognizing companies with business models weighted toward managed services and largely focused on the SMB market; the MSP Elite 150, recognizing large, data center-focused MSPs with a strong mix of on-premises and off-premises services; and the Managed Security 100, recognizing MSPs focused primarily on off-premise, cloud-based security services.

The MSP 500 list will be featured in the February 2018 issue of CRN and online at www.CRN.com/msp500.


About Align
Align is a premier global provider of technology infrastructure solutions. For over 30 years, leading firms worldwide have relied on Align to guide them through IT challenges, delivering complete, secure solutions for business change and growth. Align is headquartered in New York City and has offices in London, Chicago, San Francisco, Arizona, New Jersey, Texas and Virginia. Learn more at www.align.com and www.aligncybersecurity.com.
---
Press Contact Information
Align
Katie Sloane
+1 212-844-4078
ksloane@align.com