NEW YORK, NY – September 27, 2017 – Align, the premier global provider of technology infrastructure solutions and managed IT services, today announced it has been selected as a winner of the 2017 Channel Partners 360⁰ Business Value Awards.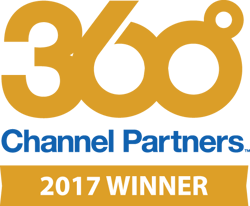 Align is among the twelve winners honored during the awards reception on September 26, at the Fall 2017 Channel Partners Evolution in Austin. Channel Partners 360° Business Value Awards winners are selected by a panel of editors based on real-world case studies that illustrate how the partner has demonstrated the convergence of IT and telecom services to create business value for its customers.

"Our 2017 Fall Channel Partners 360° Business Value Awards winners go the extra mile," said Lorna Garey, editor in chief of Channel Partners. "Just as our fall event is tightly focused on education to advance the business and intimate networking ops, this batch of winners showed a real commitment to pushing customers ahead with core technologies and an eye to sustainability."

"Align is extremely honored to receive the Channel Partners 360° Business Value Award," said Vinod Paul, COO of Align. "We hold ourselves to the highest standard when it comes to providing business value to our customers in a holistic manner. Receiving this accolade reflects this unfailing commitment and our proven success of facilitating technology infrastructure transformation in a comprehensive and turnkey way."
About Align
Align is a premier global provider of technology infrastructure solutions and cybersecurity services. For over 30 years, the world's leading firms have relied on Align to guide them through IT challenges, delivering complete, secure solutions for business change and growth. The company's products and services include Data Center Solutions, IT Advisory Services, Cloud Services, Cybersecurity Risk Management, Technology Relocations, Workplace Technology, Outsourced IT Support, Project and Technology Management, IT Managed Services and Professional Services.
Align is headquartered in New York City and has offices in London, Chicago, San Francisco, Arizona, New Jersey, Texas and Virginia. Learn more at www.align.com and www.aligncybersecurity.com.

About Informa
Informa is one of the world's leading knowledge providers. We create and deliver highly specialized information through publishing, events, training, market intelligence and expertise, providing valuable knowledge to individuals, businesses and organizations worldwide including the emerging markets of India, China and South Africa.

About Channel Partners
For more than two decades, Channel Partners has been the leader in providing news and analysis to indirect sales channels serving the business technology industry. It is the unrivaled resource for resellers, aggregators, agents, brokers, VARs, systems integrators, interconnects and dealers that provide network-based communications and computing services, associated CPE and applications as well as managed and professional services. Channel Partners is the official media of the Channel Partners Conference & Expo and Cloud Partners.
---
Press Contact Information
Align
Katie Sloane
+1 212-844-4078
ksloane@align.com