Company also Recognized for Best Use of Cloud Technology
NEW YORK, NY – October 2, 2019 – Align, the premier global provider of technology infrastructure solutions and managed IT services, today announced that it has been voted "Best Cyber-Security Services Provider" in the Hedgeweek USA Awards for the second consecutive year.
The accolade is based on an online peer-review survey in which investors, hedge fund managers and service providers are invited to elect a "best in class" in a variety of categories. The recognition comes on the heels of Align ranking 122 on the Top 200 Managed Security Services Providers (MSSPs) of 2019. The firm was also highly commended for "Best Use of Cloud Technology" in the HFM US Service Awards.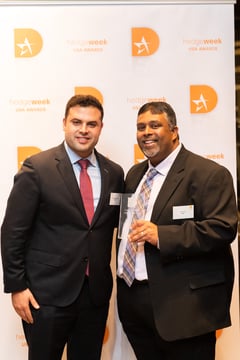 "We've strategically unified our Managed IT Services and Cybersecurity Advisory Practice to provide clients with a robust, comprehensive solution that can scale with their needs," said Vinod Paul, Chief Operating Officer of Align. "Many managed service providers are trying to innovate by adopting public cloud models; however, as an early adopter of public cloud technologies, Align's clients are ahead of the curve. Our customers have been benefiting from passive innovation, cost-effective prices and built-in cybersecurity for quite some time."
"In order to achieve compliance and performance leadership while satisfying investors and regulators - hedge funds, private equity firms and the like have moved away from legacy private cloud services and embraced service providers offering advanced, secure public cloud models," said Chris Zadrima, Director of Managed Services at Align. "Align's steadfast commitment to innovation and providing exceptional client service are the cornerstones to our success. We're thrilled that Hedgeweek readers have recognized this commitment by voting Align as the leader in hedge fund cybersecurity for the second consecutive year."
Explore Align's Managed IT Services:
About Align
Align is a premier global provider of technology infrastructure solutions. For over 30 years, leading firms worldwide have relied on Align to guide them through IT challenges, delivering complete, secure solutions for business change and growth. Align is headquartered in New York City and has offices in London, Chicago, San Francisco, Arizona, New Jersey, Texas and Virginia. Learn more at www.align.com and www.aligncybersecurity.com and follow @AlignITAdvisor.
---
Press Contact Information
Align
Katie Sloane
+1 212-844-4078
ksloane@align.com