This marks the tenth consecutive year Align has been named on the MSP 500 list
NEW YORK, NY – February 23, 2023 – Align, the premier global provider of technology infrastructure solutions and Managed IT Services, announced today that CRN®, a brand of The Channel Company, has named Align to its 2023 Managed Service Provider (MSP) 500 list in the Pioneer 250 category. The annual list recognizes the leading North American solution providers that have demonstrated innovative and forward-thinking approaches to managed services. These services help end users improve operational efficiencies and navigate the ongoing complexities of IT solutions, while maximizing their return on IT investments. This marks the 10th consecutive MSP 500 list that Align has been featured on.
The Managed Services Provider sector has risen to the forefront of the post-COVID world as a means for providing IT services to the distributed workforce. The demand for cloud-based managed services has continued to grow, with predictions placing the global spending at $349.3 billion this year, and reaching as high as $757.1 billion by 2030.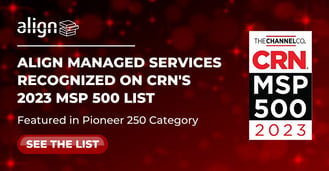 The annual MSP 500 list is divided into three sections: the MSP Pioneer 250, recognizing companies with business models weighted toward managed services and largely focused on the SMB (Small and Medium sized Business) market; the MSP Elite 150, recognizing large, data center-focused MSPs with a strong mix of on- and off-premises services; and the Managed Security 100, recognizing MSPs focused primarily on off-premises and cloud-based security services.
Align has been recognized on the MSP 500 list every year since 2014, marking this year as the company's 10th consecutive list feature. Align is continually evolving its services to account for industry changes, helping clients to operate their firms seamlessly and securely through whatever challenges they may face, from meeting new compliance, operational, and security standards, to enabling the distributed workforce with safe and reliable solutions.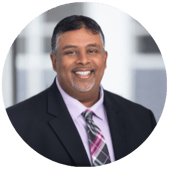 "We are honored to be featured on the Pioneer 250 list once again," says Vinod Paul, Chief Operating Officer at Align. "We are committed to providing secure, compliant, and flexible managed services solutions to our clients and it is a great sense of pride that we have been recognized among other industry leaders year after year. We will continue to evolve our services to provide our clients with flexible and reliable solutions that serve the constantly evolving industry."
The MSP 500 list will be featured in the February 2023 issue of CRN and online here.
About Align
Align is a premier global provider of technology infrastructure solutions. For over 33 years, leading firms worldwide have relied on Align to guide them through IT challenges, delivering complete, secure solutions for business change and growth. Align is headquartered in New York City and has offices in London, Chicago, San Francisco, Arizona, New Jersey, Texas and Virginia. Learn more at www.align.com, and follow @AlignITAdvisor. 
---
Align Press Contact:
Ashley Holbrook
212-546-6159
aholbrook@align.com