The Situation
A major global investment management corporation was evaluating options to develop an "incubator" environment to help nurture the development and growth of their various start-up investments. Not only were they providing precious capital, but our client also wanted to provide a collaborative workspace capable of rapid transformation to meet the ever-changing needs of this start-up client base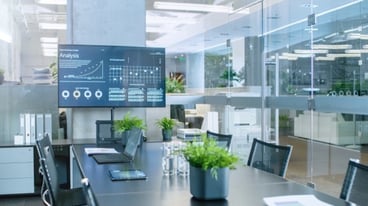 The Challenge
The workspace needed to provide state-of-the-art AV functionality, IT services and segmentation. Further considerations included the fluctuating nature of the start-up tenants that required the workspace to be flexible for the occupancy needs and various user profiles. Finally, the space also needed flexible rapid transformation and secure connectivity.
The Solution
Align kicked off the project with a series of stakeholder interviews with the firm's various start-up companies. We determined how not only to support the business demands but also each individual start-up entity's culture, while maintaining an overall coherent and workspace. Our team synthesized the output from these charrettes and working sessions to create a base level of requirements and design objectives. Align then worked closely with management and the internal IT team to gain approvals and refine the road map. Finally, we worked with architects, engineers and the broader design team to develop the integrated solution.
The Results
In conjunction with the overall team, Align designed and implemented an environment is that is fully wireless and capable of the our client's rapidly changing demographics and clientele. The activity-based design supported all aspects of the original intentions of the space and was custom-made to suit the unique needs of each start-up stakeholder. Our efforts here reflected overall best practices for an agile workplace, including ubiquitous connectivity, comprehensive communications structure, enhanced reservation systems with cloud-based tools and data stores to perform back-end analytics.

Featured services included:
Robust and high-performance WiFi
Collaboration tools
Easy to use AV systems
Rapid user deployment
Custom designed support agreements