Demystifying the Hybrid Cloud
Despite the many benefits that utilizing a hybrid cloud provides, widespread misconceptions remain. Our whitepaper, Debunking Hybrid Cloud Misconceptions, digs deeper into hybrid cloud architectures, benefits, security and more, to eliminate some of the confusion regarding cloud computing.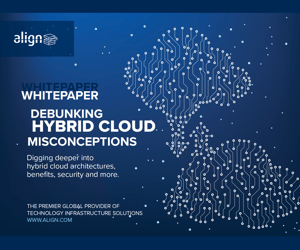 In the Hybrid Cloud Whitepaper, you'll learn:

What is a hybrid cloud
How this cloud model provides agility, performance and flexibility
How to determine if a hybrid cloud is the best option for your organization
Common characteristics of a hybrid architecture


For more information regarding Align's award-winning cloud services,
visit here or contact us.